McLaren joins the Extreme E paddock this weekend as season two kicks off with the Desert X-Prix in Saudi Arabia.
McLaren is a brand heavily associated with loud, brash, fuel-hungry F1, and while the sport has raced with hybrid power units since 2014 and its automotive division has taken a similar path, entering an all-electric off-road championship is a radical change of direction. Or is it?
"[In 2011] we were the first F1 team to be awarded the FIA carbon-neutral award and we've set ourselves a challenge of being net-zero by 2030, so Extreme E plays an incredibly strong part in that objective," explained sporting director Mark Grain.
"We are really keen for Extreme E to be able to expand McLaren's fanbase to bring in a whole new generation of people who maybe didn't follow motor racing before but are attracted by the fact that it is underpinned by sustainability."
Extreme E is "the future of motorsport"
In 2013, McLaren also became the first team to be awarded the FIA Institute's Environmental Award with three-star status, something that has since been retained.
Reflecting on the need for manufacturers to embrace the electric revolution, driver Tanner Foust explained: "There's also keeping motorsport around.
"I've been lucky to race for 20 to 25 years now and if it's going to continue, if motorsport in general is going to continue, there's going to have to be more series like Extreme E.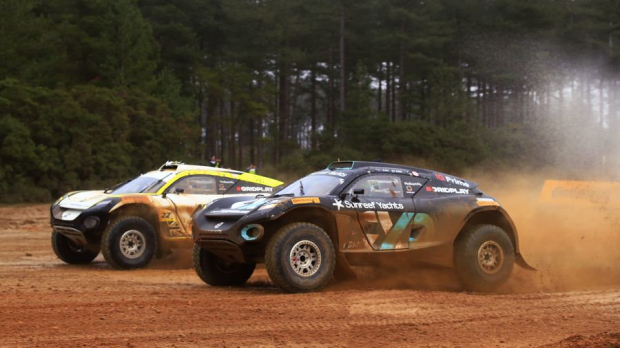 "There are scientists travelling around on basically a floating lab to educate local scientists in different regions of the world that maybe don't have the technology to really get a status quo of what their environmental situation is.
"But the latest and greatest technology is on the actual ship that can take a status quo of the ocean on the way to these places and certain issues of the different regions of the different races.
"And then just being a zero-footprint type of race series, I think if you're going to be a racer for manufacturers, this is the future of motorsport. You have to have this type of attitude going into a race.
"Of course, with any form of motorsport, if you can push the limits of EV which is in all of our futures, if you can push the reliability, the safety, the performance capability of EV through motorsport, that's a beautiful thing.
"So hopefully we have some technology also that can transfer into street cars."
Extreme E driving tyre change
This transfer of technology into the automotive sector is a huge driving factor for McLaren with the bodywork of the Odyssey 21 constructed from natural flax fibres rather than carbon fibre, and the tyre from Taraxagum rather than rubber, a compound created using dandelion extract.
"The thing about the tyres is that very rarely do you come across recycled tyres in a competition scenario so that is quite unique," explained senior principal race engineer Leena Gade.
"I think it paves the way to think more about the impact that tyres have because I think, statistically, they're one of the most polluting parts of the automotive industry.
"They're not easily recycled or rather are not taken to be recycled so this is actually quite unique.
"A lot of the tyre companies have actually been forced down the route of using chemicals that are much more environmentally friendly so that was a natural progression to going into using recycled rubber as well."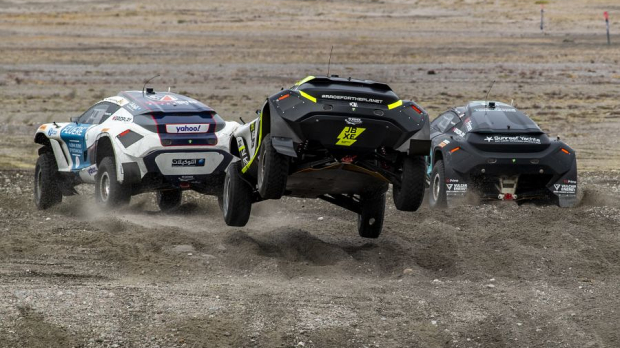 As for the flax fibre, Grain added: "You'll have seen there were quite a few shunts last season and the ability of the flax material to be repaired quickly and in the field, that is fantastic technology so that is a big step forward.
"We're also seeing what we can do again when we're looking to pivot that learning into Formula 1 and into IndyCar as well. The flax material is really promising for the future."
The excitement of equality
Aside from the messaging of environmental sustainability, Extreme E promotes a message of gender equality with teams required by the regulations to feature one male and one female driver.
"As a driver, I think it's really exciting to be involved with a race series that is bigger than just racing," said Emma Gilmour, team-mate to Foust.
"I think, obviously, taking part in a race series where you've got a 50/50 grid of males and females, that's never been done in any sport at that level and also using that platform to educate people and highlight climate change."