McLaren Racing is to join its former drivers Lewis Hamilton and Jenson Button in Extreme E for 2022.
The all-electric off-road series which aims to use racing to promote sustainability and diversity has made a significant impact in its debut campaign this year.
The innovative championship includes teams run by F1 champions Hamilton, Button and Nico Rosberg, and has now attracted what Extreme E CEO Alejandro Agag has described as a "powerhouse" in McLaren.
The Woking-based organisation believe that taking part will help to accelerate its own sustainability and diversity agenda, reach new fans and partners, and grow the brand and franchise.
The decision to enter Extreme E follows a detailed evaluation of the series against a set of strategic, economic and operational criteria, and ahead of plans to potentially take part in the World Endurance Championship or Formula E.
Further explaining McLaren's decision to join, CEO Zak Brown said: "Why Extreme E? I believe the franchise will be sold out quickly.
"We've felt that with the success of the series we didn't have the luxury of waiting another six months.
"It's a fascinating championship. We have a long history of pioneering and innovation, which is clearly what the Extreme E championship has been founded on.
"Also the importance of sustainability and diversity to McLaren Racing, and being able to accelerate that programme, and the desire to understand the technology and learn from that.
"So it was for all these reasons that we took the decision to enter Extreme E now while we continue to evaluate these other racing opportunities.
"While Formula 1 will always remain at the centre of our world, like IndyCar and esports, our entry into Extreme E is additive to the McLaren Racing franchise and will complement and help support all our programmes.
"We will be competing against big names we're very familiar with from F1 and IndyCar but, like all series we compete in, the competition objective is clear - we are there to win."
[article continues below image]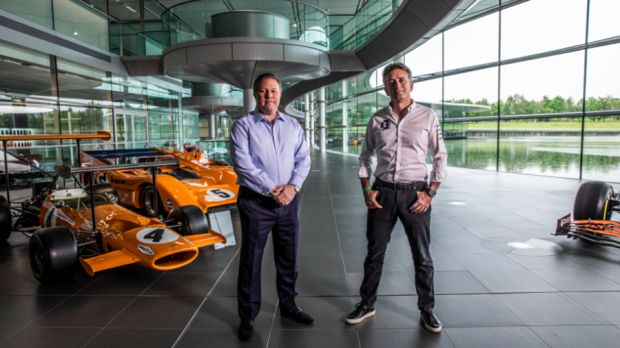 Extreme E was instigated to highlight the impact of climate change in some of the world's most remote environments, promote the adoption of electric vehicles to pave the way for a lower-carbon future, and provide a world-first gender-equal motorsport platform.
Hailing McLaren's arrival, Extreme E CEO Alejandro Agag said: "Extreme E's mission is to use sport to build awareness and accelerate clean technology innovations that benefit the mobility industry and beyond.
"To have McLaren on board, which symbolises the highest level of racing and automotive innovation, is a huge endorsement that what we have delivered in just our first two races of season one has already created real impact in motorsport.
"We are absolutely thrilled to welcome Zak and the powerhouse McLaren Racing team to Extreme E, and it's safe to say, we can't wait to see how the team performs in its first off-road, electric racing debut. Season two just got very exciting."
The series adds to McLaren Racing's portfolio that includes F1, IndyCar and esports.
The team will be operated by McLaren Racing using both existing personnel from outside the F1 programme and additional specialist resource.