Sebastian Vettel has picked up two penalty points for causing a collision during the British Grand Prix, with the stewards deeming him responsible for the incident with Max Verstappen.
Vettel and Verstappen were fighting over for position when Verstappen launched an audacious attack around the outside of the German at Stowe, completing the move and putting himself in third place at the exit. Vettel however, keen to not lose the position, attempted to retake it at the next corner.
Pushing too hard and braking too late, Vettel locked his front tyres behind Verstappen, causing him to harpoon into the back of the Dutchman and sending both drivers into the gravel on the outside of Vale. Both were able to get going again, however Vettel fell to last place and was awarded an in-race ten-second penalty for his mistake.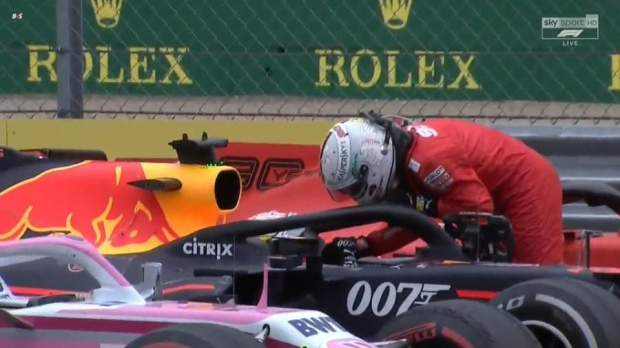 The woes continue though as the stewards have given him two penalty points on his license, putting him at a total of six. Twelve is the limit before a driver receives a one-race ban and, with the first of his current points not to be removed until October, he will have to be cautious until then.
The official documentation from the stewards finds Vettel entirely responsible for the incident, reading: "The Stewards reviewed the video evidence which showed car 5 locked wheels under braking and collided with the rear of car 33.
"The Stewards concluded that the driver of car 5 was wholly to blame for the incident [ref Article 38.2 a) of the 2019 Formula 1Sporting Regulations]."