Lewis Hamilton says his victory at the Italian Grand Prix served as the crucial psychological blow in 2018's successful title fight with Sebastian Vettel and Ferrari. Hamilton broke home hearts at Monza as he won from third on the grid after Vettel had spun on the opening lap to leave Kimi Raikkonen exposed.
Ferrari entered their home race in bullish mood after Vettel had dominated in Belgium, but cracks began to show when Raikkonen was towed onto a surprise pole.
It meant Vettel would have to earn the win – Raikkonen refusing to simply stand aside – and the German came off worse in first-lap contact with Hamilton, having spun out of his own home race two events prior at Hockenheim.
With Vettel out of the race, Mercedes manipulated Raikkonen's strategy with Valtteri Bottas, ensuring the Finn's tyres were shot when Hamilton advanced upon him late on and took a victory that the Brit believes was the most crucial t him taking out his fifth world title.
Hamilton told Motor Sport Magazine: "We qualified third, which wasn't really a psychological blow because we'd lost the race before so we knew we were up against it coming into Monza.
"But I was pissed off with myself because maybe with a perfect lap I could've qualified second.
"I never hold back on myself and I thought: 'Shit, I've done all that practising then you fuck it up in qualifying.' I lost half a tenth here or there and that would've been the difference between second and third.
"I would say that Sunday was probably the biggest psychological blow for them. Seb's psychologically difficult time was when he made a personal mistake [at Hockenheim].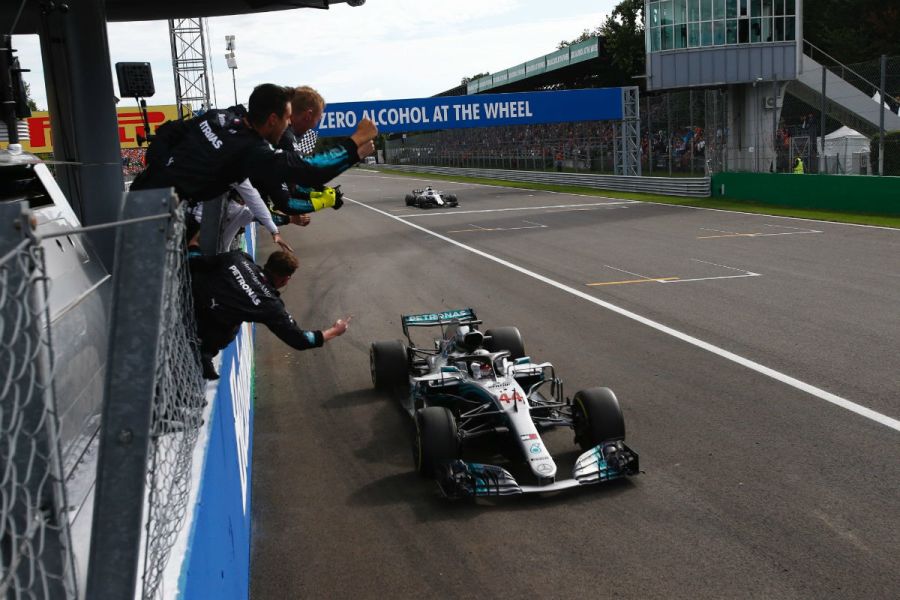 "When the team makes a mistake it's painful, but when it's you and when it's in your control, that's a horrible feeling. He would have taken that to heart.
"Then we had that fight at Monza. That would've been a team blow for them.
"But we didn't get complacent after that great result for us. We knew we still had to execute, going to places like Singapore where Ferrari again usually destroy us. And what a weekend it was."
MORE: Vettel is 'past his peak' - Stewart
MORE: Revealed: What Vettel said to Hamilton after Mexico GP