Top pundit insists 'strongest Sainz EVER' has emerged
Top pundit insists 'strongest Sainz EVER' has emerged
Antonio Lobato has said that we are currently seeing 'the strongest Carlos Sainz ever' after the Ferrari driver produced a stunning drive to take victory at the Singapore Grand Prix.
The Spaniard became the first non-Red Bull driver to win a race in 2023, holding off the challenge of Lando Norris, George Russell, Lewis Hamilton and team-mate Charles Leclerc to win in hot and sticky conditions.
READ MORE: Sainz secures DRAMATIC victory in Singapore despite late Mercedes charge
He has received great praise for the ingenius tactics deployed at the end of the race, when he purposely gave Norris behind him DRS so that he could defend from the two supremely quick Mercedes drivers in third and fourth, who were on fresh tyres.
Now, Lobato has said that Sainz deserves all of the plaudits for his recent performances that have seen him build a 19 point lead to his team-mate in the championship standings.
"Carlos embraced the risk," he said on Spanish TV after the race.
"What he has done keeping Lando under one second to keep giving him the DRS so that he could defend from the Mercedes cars, that includes being confident that you could handle the pressure if Norris pushes.
"He was very smart, he was perfect from beginning to end. I think we are witnessing the strongest Carlos Sainz ever."
Supreme Sainz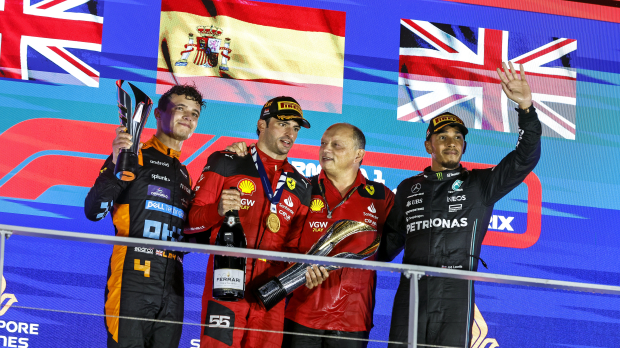 In the space of the last two races, Sainz has turned a disappointing season for Ferrari into something to build on going into 2024.
They have regressed based on where they were in 2022, but Sainz has now claimed two pole positions in a row and achieved a third place finish at Monza, as well as this much-needed victory.
They are now only 24 points behind Mercedes in the race for second position in the constructors' championship.
To be seen as 'the best of the rest' in a season that has been so massively dominated by Red Bull would be no mean feat for the Maranello-based team.
READ MORE: EXCLUSIVE: Verstappen setup quirk which allows Red Bull to make car even faster