Leclerc bullish over Ferrari pitstop BLUNDER at Dutch GP
Leclerc bullish over Ferrari pitstop BLUNDER at Dutch GP
Charles Leclerc has refused to criticise Ferrari for their early pitstop blunder at the Dutch Grand Prix, having made the decision to change tyres himself.
Leclerc's race suffered an early blow after he dived into the pits to switch from dry to intermediate rubber on lap three and subsequently missed out on 13 seconds, with the mechanics not ready with the fresh set.
Heavy rain had swamped the circuit midway through the first lap, with both Leclerc and Sergio Perez - who briefly took the lead of the race - opting for inters.
As a result of the delay, the Monegasque driver dropped down the standings and failed to recover. His race was eventually brought to a premature halt due to floor damage seemingly sustained in an altercation with Oscar Piastri's McLaren.
Speaking to Sky Sports shortly after clambering out of his crocked SF-23, Leclerc admitted the last-gasp call that caught the team off guard had been his own.
READ MORE: Verstappen equals record with victory in DRAMATIC rain-hit Dutch GP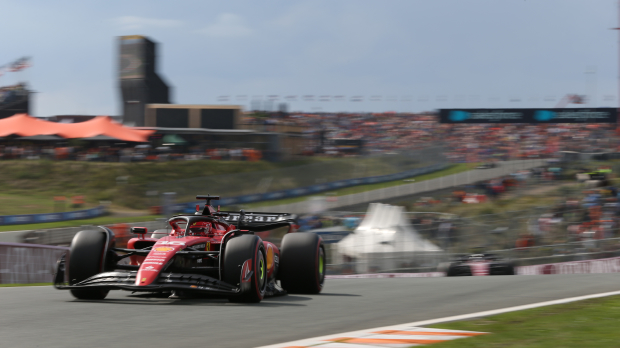 No regrets
"I didn't know what was the conditions like," he said. "At first, we said we expected a little rain, nothing crazy.
"Then we get into the last corner and it's raining like crazy and there I straight away understood that even if the guys weren't ready, this was the right call because I would lose way more by staying out.
"Maybe we could have optimised by having the mechanics ready anyway, but to be honest, we gained more than what we lost in terms of position. We were I think P6 or P7 after our stop. I don't regret that late call, but we could have optimised it."
Leclerc also addressed the issue sustained in his collision with Piastri in the early stages of the race, adding: "I think it was the result of the contact with Oscar, but it's very strange because it was very little.
"But unfortunately, I guess it touched a part that was very important aerodynamically wise. Then we were struggling like crazy."
READ MORE: Leclerc complains of 'MASSIVE' difficulties with Ferrari car at Dutch Grand Prix