McLaren's Gil de Ferran has explained why the eight-time constructors' champions' bold performance predictions of recent years have stopped, and shared his opinion on how the signings of Andreas Seidl and James Key will change his role in the team.
During the team's troubled three-year spell with Honda, McLaren were criticised for what were seen as over-ambitious performance targets, but that seemed to stop halfway through last season when Zak Brown admitted the team could be "years away" from winning again.
De Ferran says the different approach has something to do with the culture of the team changing also, and explains that focusing on the process rather than the outcome is now McLaren's preferred method.
"I think in life, in general, I've learned to spend my energy on the things that I can change and on the things that I can influence. It's about how well we work, and how our strong our team and our culture is," said de Ferran in Barcelona.
"The other thing I've learned is that if you keep doing your job well on a daily basis, so that tomorrow is a little bit better than today, eventually you'll get somewhere. Rather than focusing on an outcome and saying 'we're going to be here by day X'.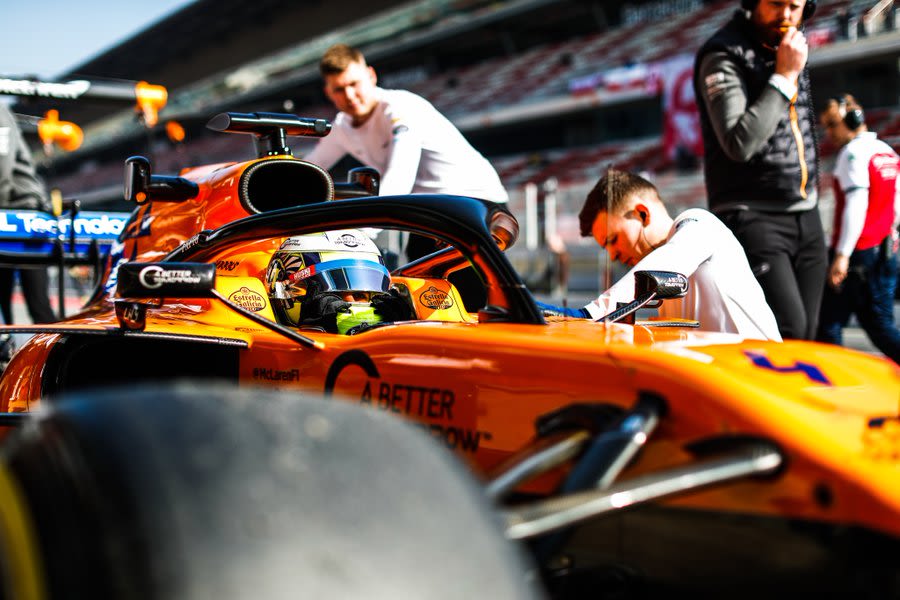 "In my experience, if you do that well enough, the results will eventually come."
De Ferran joined McLaren last summer as part of a management shakeup following Eric Boullier's departure from the team.
The two-time CART champion believes the additions of ex-Porsche LMP1 boss Seidl and Key, formerly Toro Rosso's technical director, will complement the depth of talent that already exists within the team.
"I think for me, it's a very positive thing," said de Ferran. "Andreas is a very experienced and capable man and [his signing is] about making the team stronger. We've brought James Key in and I think this will just make the team better and better.
"It will allow me to step into the role that I was always meant to do, which together with Zak, is to help oversee all McLaren racing operations from a sporting perspective."
With McLaren being accused in the past of having a bloated managerial structure, de Ferran says that on-track results will eventually determine whether their approach is correct, but the Brazilian says that one of his aims has been to get the team communicating better internally, from the top down.
He explained: "[My focus is] to understand the team better, to make sure that we take the talent that already exists in the team and to make sure that we work more efficiently, that we deliver more, improve communications, and work better together as a team, part of this [included] some reorganisation.
"We can always improve on many counts, and my focus is exactly that, to make sure that the team is organised in the right way, make sure that we're having the right conversions, that the right people are focused on the right things, and to try to influence the culture of this team in the best way that I can.
"Results over time will eventually tell how well we're doing as a team."
MORE: Norris: McLaren 2019 car reaching full potential
MORE: Alonso McLaren test role backed by Norris, Sainz