Hamilton: 'Liever Verstappen dan Vettel als teamgenoot'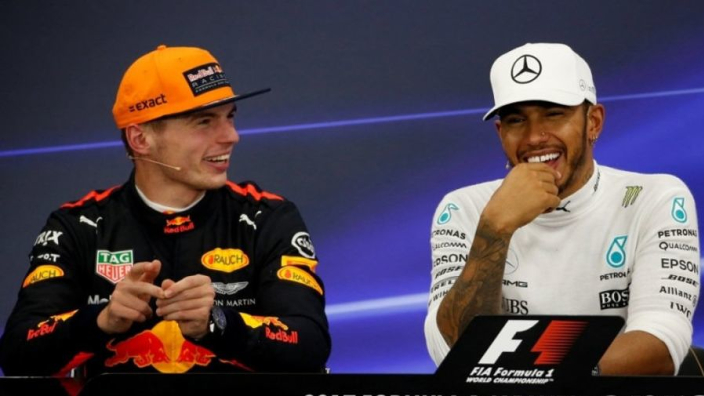 Mercedes-coureur en viervoudig wereldkampioen Lewis Hamilton heeft liever Max Verstappen in de toekomst als teamgenoot dan Sebastian Vettel. De Brit ziet dat de Red Bull-coureur veel aandacht krijgt in de media en dat is voor hem een extra stimulans om de Nederlander te willen verslaan.
Lewis Hamilton is er inmiddels aan gewend geraakt om met sterke collega's aan zijn zijde te rijden. De Brit reed onder meer al tegen en met wereldkampioenen Fernando Alonso en Nico Rosberg. Dit zette de verhoudingen enorm op scherp, maar het haalde wel het beste in Hamilton naar boven. Inmiddels is hij dan ook viervoudig wereldkampioen en dit maakt hem misschien wel de beste Formule 1-coureur van dit moment. Toch blijft hij zichzelf uitdagen en daarom wil hij graag tegen de sterkst mogelijke tegenstanders racen.
Toen het Duitse RTL hem de vraag voorlegde of hij liever Max Verstappen of Sebastian Vettel als toekomstige teamgenoot zou willen hebben, antwoordde Hamilton: "Als teamgenoot gaat mijn voorkeur naar Verstappen." Onder meer de enorme media aandacht die de Nederland krijgt, is voor Hamilton een reden om hem te willen verslaan. "De beste manier om die hype de kop in te drukken, is door hem te verslaan", zo zegt de Mercedes-rijder.
Hoewel Hamilton dus liever Verstappen als teamgenoot heeft, is hij ervan overtuigd dat Vettel op dit moment nog wel beter is dan de Limburger. "Tot nu toe is hij nog wel sterker", zo legt Hamilton uit. De Brit denkt echter wel dat Verstappen het niveau van hem en Vettel kan bereiken. "Hij moet nog een flink aantal races gaan winnen, maar Max heeft waanzinnige kwaliteiten en over tien jaar denk ik dat hij minstens net zo goed is als wij nu zijn."