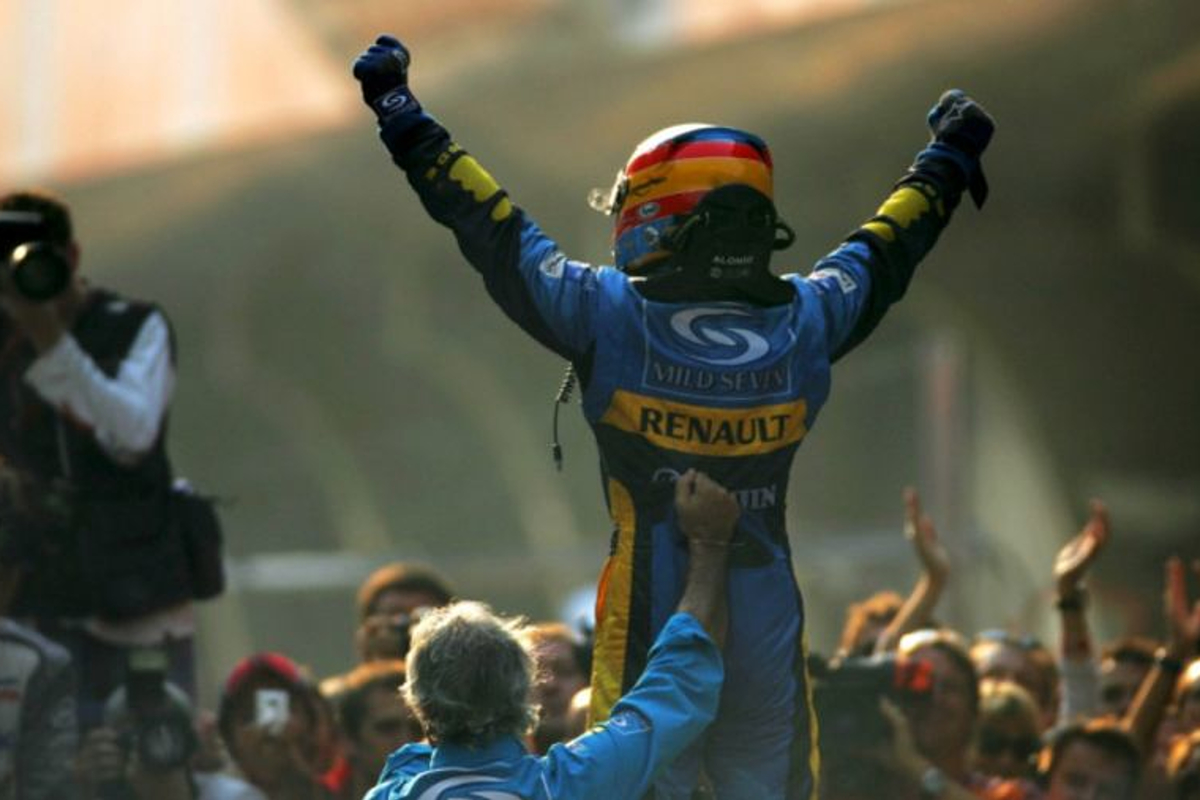 Fernando Alonso's 10 best F1 drives
Fernando Alonso's 10 best F1 drives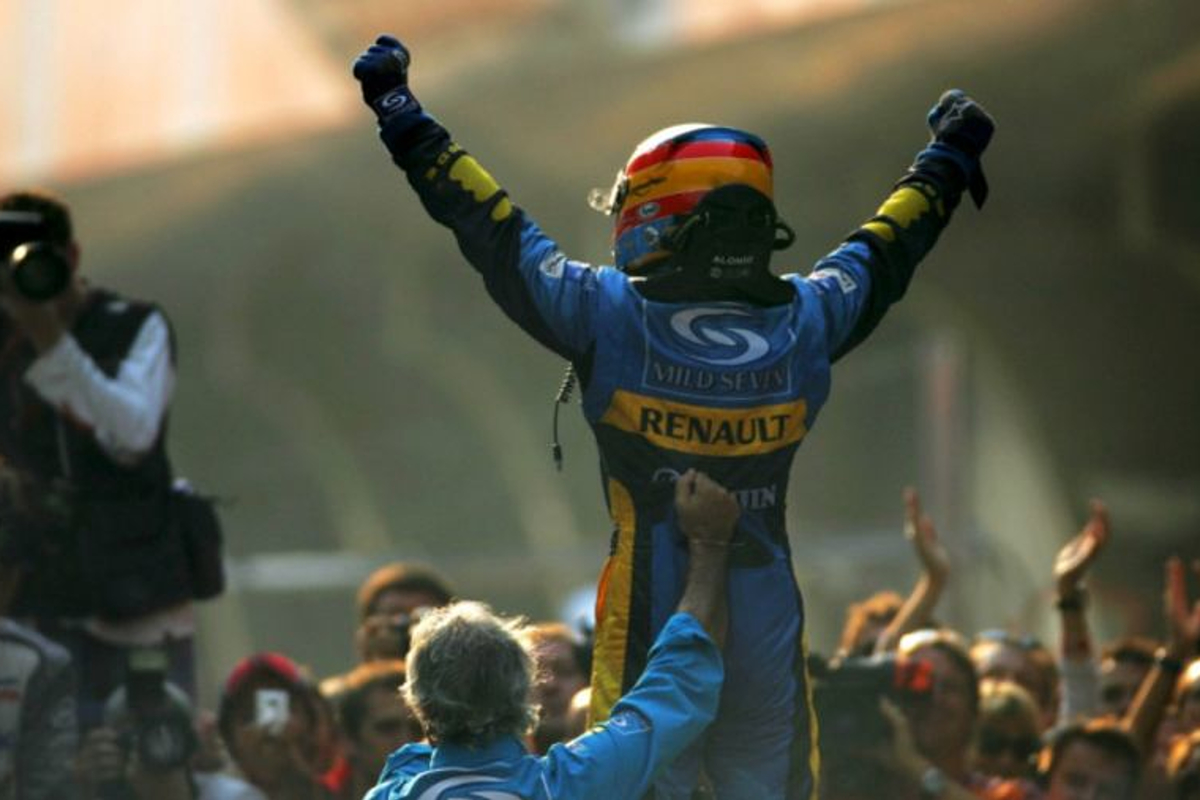 Fernando Alonso will enter his 300th Formula 1 race this weekend at the Canadian Grand Prix. The two-time world champion is still regarded as one of the best racers on the grid, despite his fall from the title picture at McLaren in recent years. Here we recap 10 of the performances that have earned him such a stellar reputation.
2001 Japanese Grand Prix
Racing in a Minardi resembling a bath tub on wheels, Alonso qualified almost two seconds quicker than team-mate Alex Yoong, hitting the speed trap 8mph quicker, before finishing 11th, ahead of both Arrows, the BAR-Honda of Olivier Panis and Heinz-Harald Frentzen's Prost. It served as a near-instant display of Alonso's ability to wring the very best out of his car.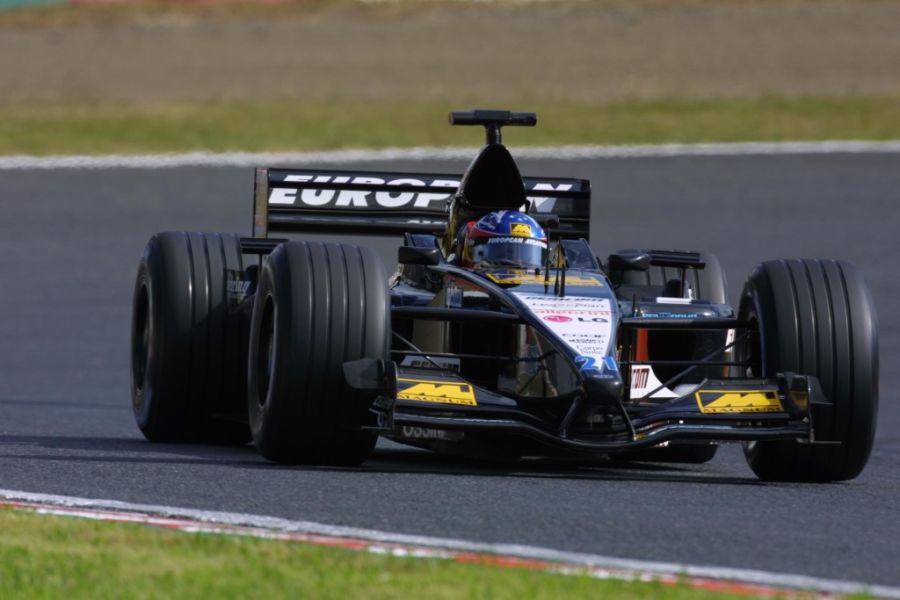 2003 Hungarian Grand Prix
Alonso's first F1 victory saw him lead from lights to flag at the Hungaroring, as well as lapping the reigning champion Michael Schumacher, who would go on to be crowned again at the end of the year. Alonso became F1's youngest race-winner with this victory, breaking Bruce McLaren's record that had stood for 44 years. Sebastian Vettel and Max Verstappen have since lowered the benchmark further.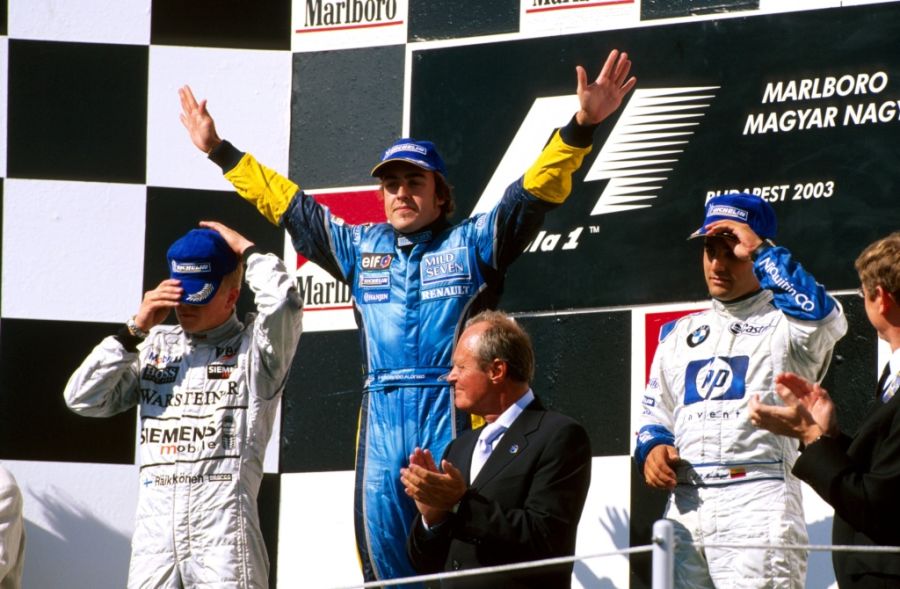 2005 San Marino Grand Prix
Once the pole-sitting Kimi Raikkonen retired with driveshaft issues, an easy win for Alonso looked on the cards. However, Ferrari and Schumacher were in inspired form. Despite qualifying 13th, the German great made rapid progress and was right on the Renault's tail after the second round of pit-stops. Despite Schumacher's best efforts, Alonso managed to keep his car just wide enough to win by a mere 0.215 seconds.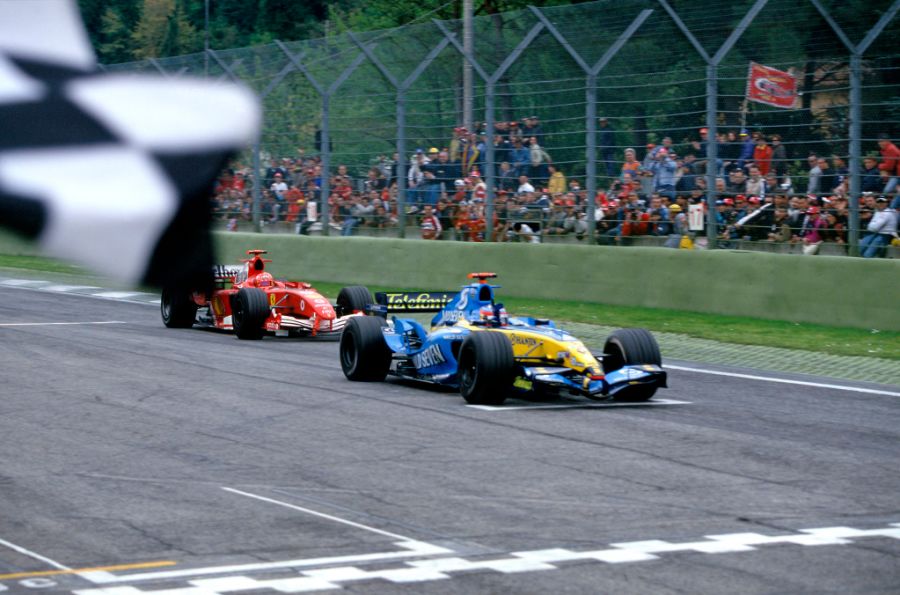 2005 Japanese Grand Prix
Raikkonen's win from 17th on the grid remains arguably his greatest victory, but Alonso also put in a stellar drive to join him on the podium, despite starting 16th. Schumacher was twice overtaken, including a jaw-dropping pass around the outside at 130R and victory might have been Alonso's had he not needed to pit earlier than Raikkonen and team-mate Giancarlo Fisichella after being run lighter than his rivals.
2006 Japanese Grand Prix
A return to Suzuka 12 months later saw Alonso effectively seal his second straight title. Bridgestone-shod cars had held a massive advantage all weekend, helping Ferrari lock out the front row, with title rival Schumacher second, and Toyota qualify ahead of Renault, meaning Alonso started fifth. After getting the better of the Toyotas and Felipe Massa in the pits, Alonso kept the pressure on Schumacher throughout, until his Ferrari engine blew with 16 laps to go, giving Alonso a precious win.
2010 Bahrain Grand Prix
A pass on new team-mate Massa was crucial as Alonso capitalised on gearbox problems in Sebastian Vettel's Red Bull to win on his Ferrari debut, and in a race that was made all the more poignant by Schumacher's return to F1. Juan Manuel Fangio, Raikkonen and Nigel Mansell are among the other debutant victors for the famous Italian squad.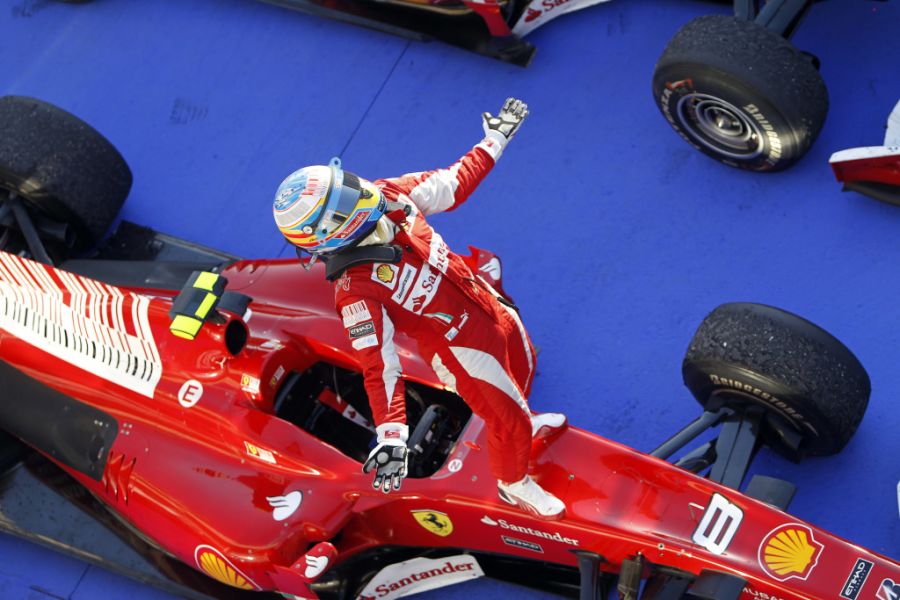 2010 Singapore Grand Prix
Alonso's first, and to date only, 'Grand Chelem' - he qualified on pole, led every lap and set the fastest lap time in a victory that swung momentum his way in a memorable 2010 title battle. That somewhat belies the whole story, as it was another wafer-thin win, Alonso spending almost the entire race with the faster Red Bull of Vettel crawling over his gearbox. Despite the German's best efforts, Alonso kept P1 at all times and passed the chequered flag just 0.293 seconds before the Red Bull.
2012 Malaysian Grand Prix
Alonso began 2012 with a fifth-place finish in Australia, with Ferrari looking well off the pace of their rivals, but a sodden Sepang seven days later levelled the playing field. The race started in torrential conditions and had to be suspended for almost an hour, but Alonso emerged from the chaos in the lead, having started ninth. The man alongside him on the fifth row, Sauber's Sergio Perez, would end up posing the biggest threat to Alonso's victory, however yet another masterful defensive display, and a crucial mistake by the Mexican, were enough to give the Ferrari man victory.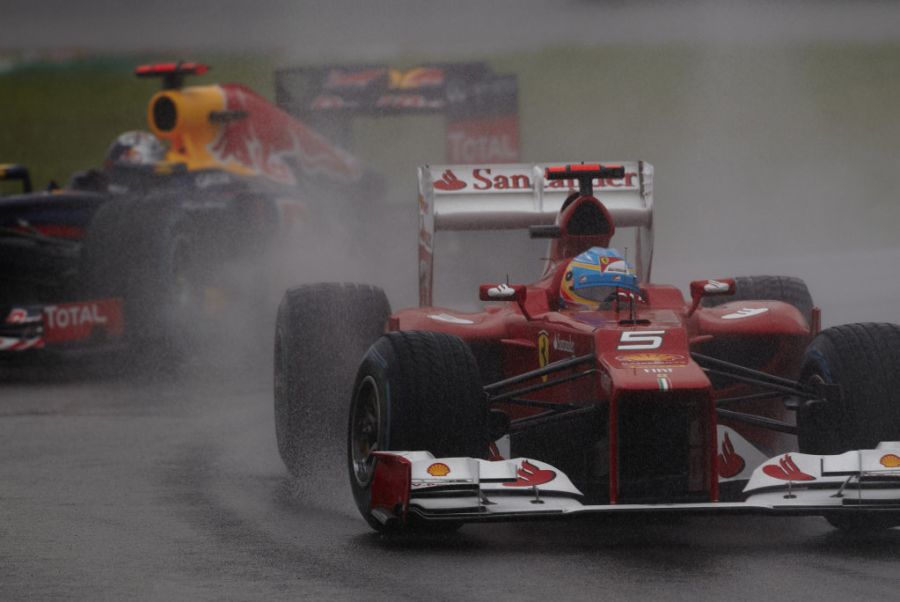 2013 Spanish Grand Prix
Assisted by a mesmeric start off the line, this is Alonso's 32nd and last win to date. P5 was P3 in a matter of three corners at the Circuit de Catalunya, with Alonso undercutting Vettel and overtaking the tyre-worn Mercedes of Nico Rosberg to seal a well-earned victory that moved him beyond Mansell and into fourth place in the list of all-time F1 race-winners at the time. In the five years since, he has slipped to sixth behind Vettel and Lewis Hamilton.
2018 Azerbaijan Grand Prix
The sheer grit and determination of this drive warrants inclusion. Left with two functioning wheels and severe floor damage on the opening lap in Baku, Alonso brushed off McLaren's assumptions of retirement and made up six places in 10 laps - passing McLaren team-mate Stoffel Vandoorne in the process - before hanging on to seventh at the end of a crazy race.
Just watch Alonso's hands ???? ????#AzerbaijanGP ???????? #F1 pic.twitter.com/QmzZjC59QM — Formula 1 (@F1) May 2, 2018