Michael Schumacher won his first race for Ferrari at the 1996 Spanish Grand Prix on this day 22 years ago. Not only was it the German's maiden win for the Scuderia, but it underlined his status as one of Formula 1's greatest wet-weather drivers.
This was not the Ferrari that would go on to deliver Schumacher five consecutive titles and the famous team entered the '96 season with just two wins in the previous five seasons.
World champion in 1994 and 1995 with Benetton, the car awaiting Schumacher in Maranello was far from a title contender, but the German had three podiums to his name in the opening six races.
Williams had won five of those six races, Damon Hill taking four of them, and F1 travelled to Barcelona on the back of Olivier Panis' astonishing win in Monaco - a race in which only three drivers finished amid treacherous conditions.
The rain was back in a big way at the Circuit de Catalunya on race day, with Hill and Williams team-mate Jacques Villeneuve on the front row, with Schumacher starting third.
He made a poor getaway, dropping back, but Schumacher was in the lead by lap 13, with Hill spinning twice early on before crashing out.
In the modern era, the race likely would not have started, given the pouring rain and slippery track.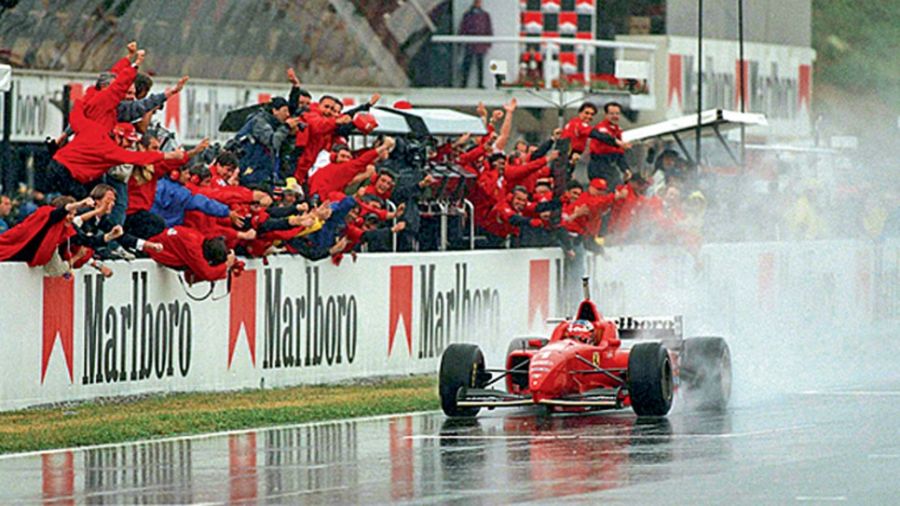 But that was no obstacle to Schumacher, who lapped between three and five seconds per lap than his rivals, in part thanks to Ferrari settling on a full-wet setup, but mostly thanks to the driver's ability to find grip where there was none.
Schumacher cross the chequered flag 45 seconds ahead of Benetton's Jean Alesi, with Villeneuve taking third.
The victory kick-started a revival at Maranello, and Schumacher challenged Villeneuve for the title the next year - ultimately disqualified amid end-of-season controversy in Jerez - before his return from a broken leg in 2000 began a period of red dominance.