'It's like crashing a bus' - Russell concerned about dangers of F1 cars
'It's like crashing a bus' - Russell concerned about dangers of F1 cars
George Russell has conceded the inherent danger of constantly increasing the weight of F1 cars after comparing accidents to "crashing with a bus".
F1 cars have bloated in recent years with increased safety devices and the hybrid system adding significant weight.
Across the last 10 years, cars have gotten 156kg heavier, increasing from 650kg to 798kg.
Speaking to Motorsport.com, Russell said: "The big one [issue] is the weight.
"The weight is extraordinary. At the moment, the low-speed performance is not great.
READ MORE: Russell hailed as F1 'revelation' by former champion
"We keep making these cars safer and safer, but obviously the heavier you make them when you have an impact it's like crashing with a bus compared to a Smart Car.
"You're going to have a greater impact if you're going the same speed with a car that weighs 800-odd-kgs or over 900kgs at the start of a race, compared to one 15 years ago when they were at 650kg."
Recent seasons have seen a number of extraordinary crashes that could previously have had fatal consequences.
Romain Grosjean's crash in the 2020 Bahrain Grand Prix is one such example that fully tested the safety devices, including the Halo, as his Haas split the barrier in two before bursting into flames.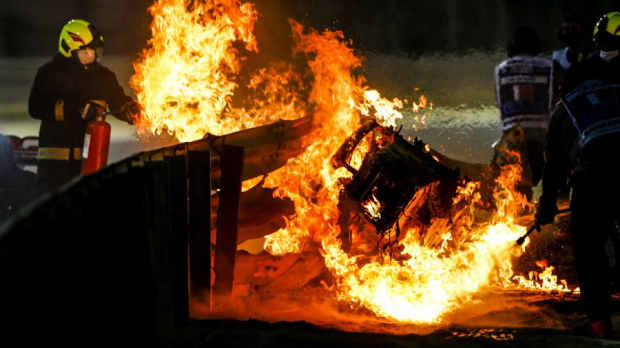 Although unable to offer a solution that would satisfy all parties, Russell is confident that the FIA will achieve success in this mission.
"And I'm sure there's analysis going on about striking that right balance because I don't know where the line is drawn," he added.
"If you just keep making it heavier, heavier, heavier, stronger, stronger, stronger – actually you get to a point where you cross over that [line] that too heavy is actually not safer."
READ MORE: Russell declares himself 'ready to fight' for title