Vettel en Hamilton: 'Oude Formule 1-logo was beter'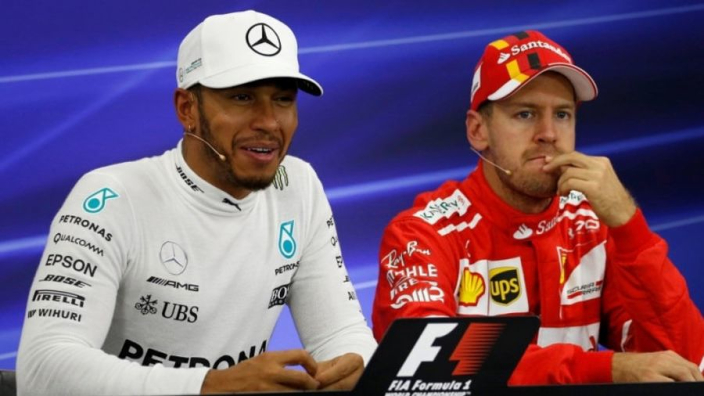 Lewis Hamilton en Sebastian Vettel zijn niet erg te spreken over het nieuwe logo dat de Formule 1 gisteren introduceerde. Sinds Liberty Media aan de macht is in de sport, is er al veel veranderd en een nieuw logo was de volgende stap. Na afloop van de Grand Prix in Abu Dhabi spraken Hamilton en Vettel zich uit over het nieuwe beeldmerk.
Het vernieuwde Formule 1-logo werd na afloop van de Grand Prix tijdens de huldiging gepresenteerd. Op het scherm achter de coureurs (Bottas, Hamilton en Vettel) werd het nieuwe beeldmerk aan het grote publiek getoond. Met veel enthousiasme werd er echter niet gereageerd. Ook de kopmannen van Ferrari en Mercedes zijn er niet echt over te spreken. "Ik denk dat het logo dat we eerst hadden iconisch was", zo zei Hamilton. "Stel je voor dat Ferrari ineens met een ander logo komt, of Mercedes... Ik denk niet dat het nieuwe logo goed is, maar wie weet moet het nog groeien."
Sebastian Vettel sloot zich aan bij de regerend wereldkampioen. De Duitser kan duidelijk niet winnen aan het nieuwe logo. "Ik vond de oude versie beter", zo reageerde hij kort maar krachtig. Volgens Sean Bratches, commercieel directeur bij de Formule 1, is het logo onder meer aangepast omdat de sport zich wil klaarstomen voor het digitale tijdperk, en dan is een simpel logo beter. "Kijk naar Starbucks of Coca Cola waar ze ook een deel van het logo gewijzigd hebben. We hadden het gevoel dat we iets verder moesten gaan om klaar te zijn voor de toekomst", aldus Bratches.