Helmut Marko: 'Max wilde zelf contract verlengen'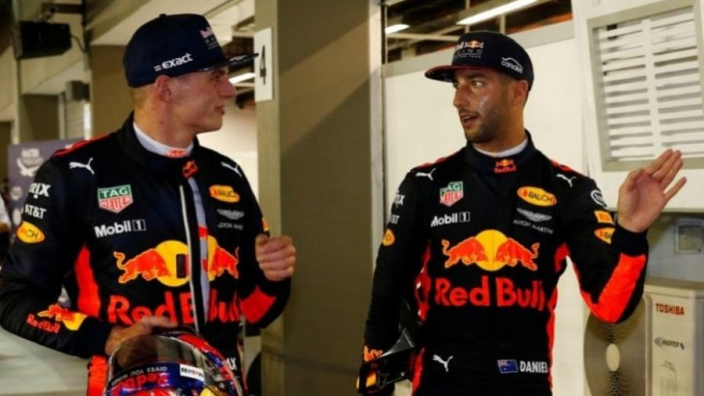 Helmut Marko laat in gesprek met Sky Sports weten dat Verstappen zelf het initatief heeft genomen om zijn contract bij Red Bull te gaan verlengen. Het doel van Red Bull is om met Max Verstappen wereldkampioen te worden.
Verstappen zou dan de jongste kampioen in de Formule 1 worden. Marko wil niet zeggen op welke voorwaarden Verstappen zijn contract heeft verlengd. De 20-jarige Nederlander heeft het gevoel dat hij met Red Bull succesvol kan zijn. Mercedes en Ferrari zaten namelijk ook op vinkentouw, maar geld speelde geen rol in de keuze van Verstappen, liet hij weten bij Ziggo Sport. De hoogste baas bij Red Bull, Helmut Marko, onthulde bij Sky Sports dat Verstappen zelf heeft aangegeven graag zijn contract te verlengen. "Zowel Max als Ricciardo zouden kunnen vertrekken na 2018, dus we wilden op zijn minst één coureur behouden. Max vroeg zelf of hij zijn contract tot 2020 kon verlengen, terwijl Ricciardo zich in de etalage zette. Dit geeft aan hoeveel vetrouwen Max in ons heeft."
Marko wilde niet verder ingaan op de details van het vernieuwde contract. Wel werd bekend dat Verstappen zo'n 30 miljoen euro opstrijkt met zijn nieuwe contract. Volgens de geruchten kon hij bij Ferrari of Mercedes drie keer zoveel gaan verdienen. Red Bull is ook voornemens om het contract met Daniel Ricciardo te gaan verlengen. De Australiër zou daar zelf ook positief tegenover staan, maar is daar op dit moment nog niet mee bezig. Hij concentreert zich op de komende Grands Prix en het nieuwe seizoen.