Max Verstappen ziet Ricciardo graag langer blijven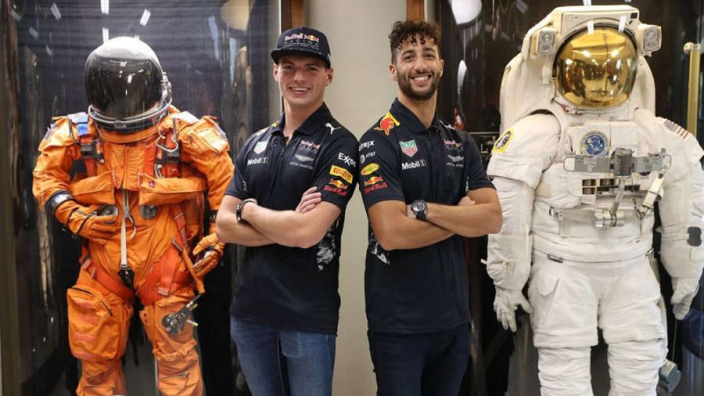 Als het aan Max Verstappen ligt, blijven hij en Daniel Ricciardo na komend seizoen gewoon teamgenoten. Het zou volgens de Nederlander 'het beste scenario' zijn.
Dat Verstappen en Ricciardo goed met elkaar op kunnen schieten, spat er vanaf. De Australiër en de Nederlander worden in de media vaak geprezen als 'het leukste duo' en Verstappen herkent dat wel. Zijn antwoord op de vraag of hij nog langer teamgenoten wil zijn dan tot volgend jaar, is dan ook weinig verrassend: "Ja natuurlijk, dat zou heel positief zijn. Ik kan het goed met Daniel vinden," zei hij vandaag tegen de pers op het Circuit of the Americas. Of dat ook daadwerkelijk gebeurt, is niet zeker. Verstappen zegt dan ook dat het 'het beste scenario' zou zijn.
Daniel Ricciardo heeft nog tot en met volgend seizoen een contract bij Red Bull Racing. Het contract van Verstappen loopt nu tot en met 2020. Ricciardo wordt al een tijdje gezien als mogelijke kandidaat voor Ferrari, naast Sebastian Vettel. Toch zijn dat nog niets meer dan speculaties, aangezien Ricciardo zelf aangeeft 'niet uit te sluiten dat hij langer bij Red Bull blijft'. Het hangt volgens de Australiër vooral af van wat het Oostenrijkse team komend seizoen uit de kast weet te halen. Ricciardo ziet zichzelf verder ook als toekomstig wereldkampioen en gaf gisteren nog aan dat hij het belangrijk vindt dat er binnen Red Bull Racing geen verschil gemaakt wordt tussen beide coureurs.