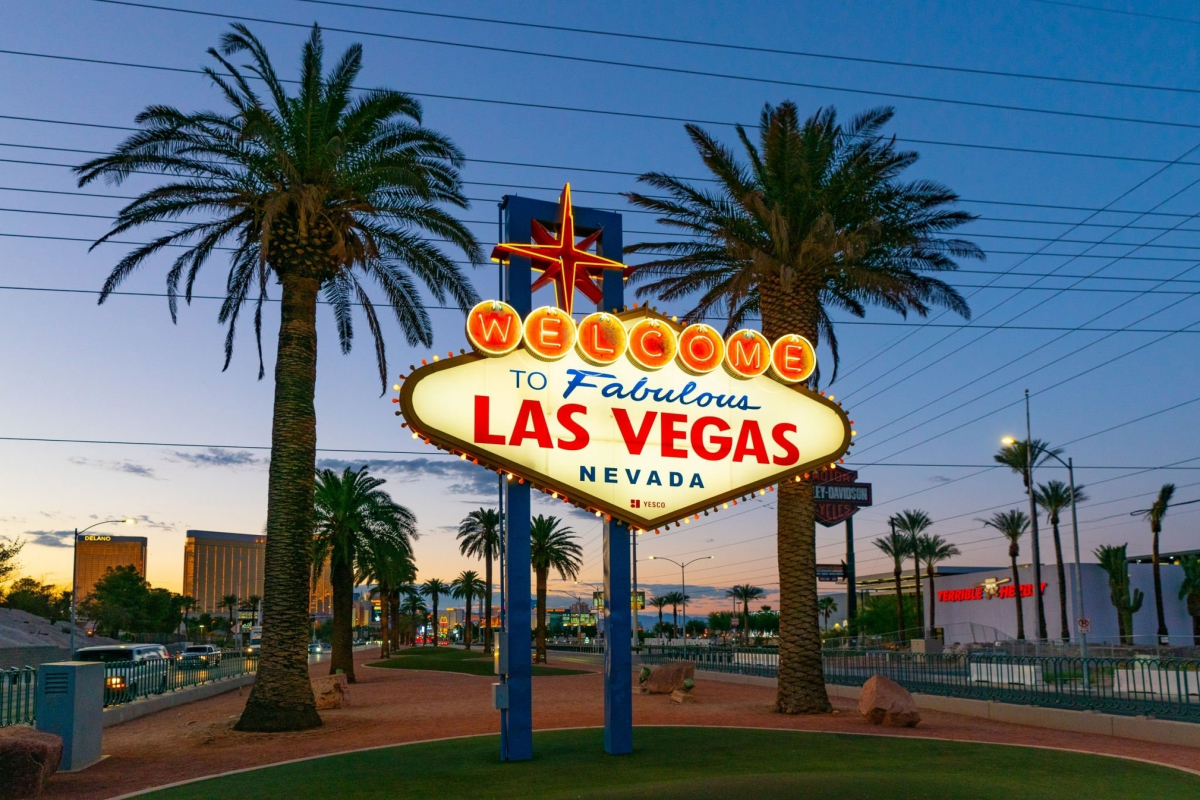 The top 10 FREE things to do when you're at the Las Vegas Grand Prix
The top 10 FREE things to do when you're at the Las Vegas Grand Prix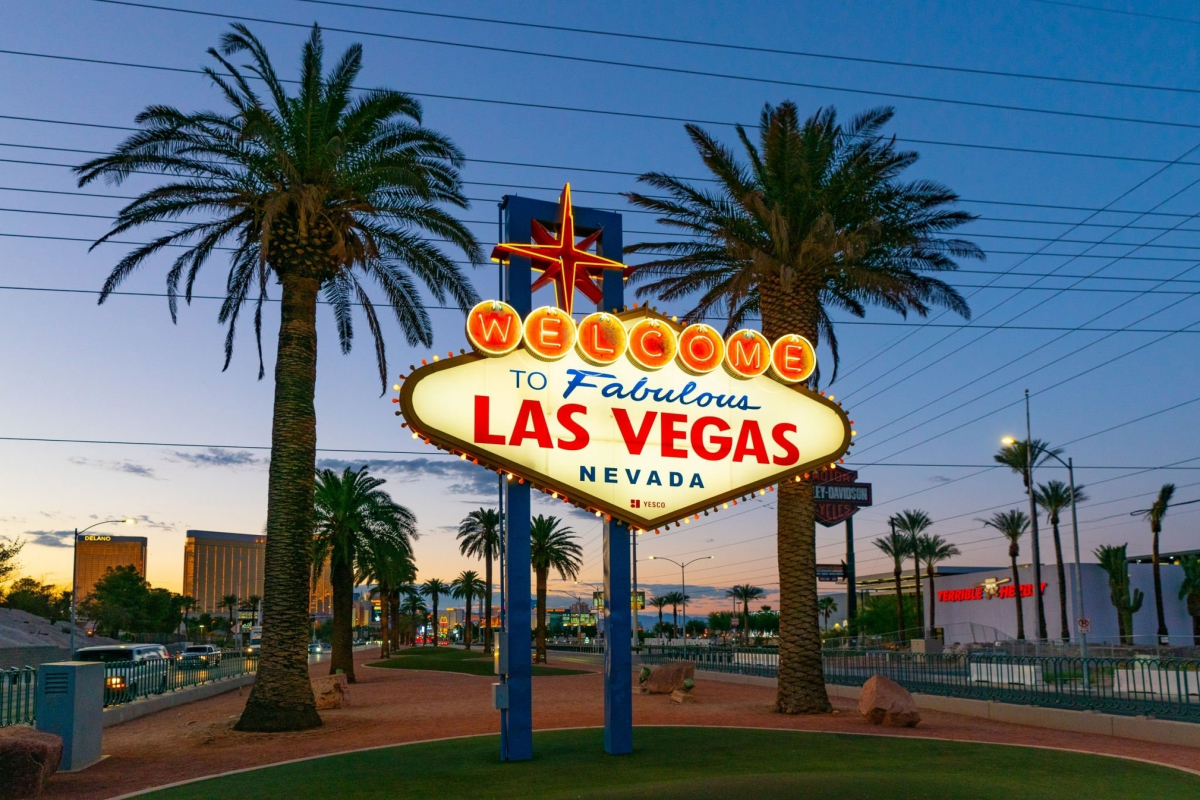 The 2023 F1 Las Vegas Grand Prix will be an unprecedented experience which combines the thrill of motor racing and Sin City's vibrant nightlife.
You may have read a ton of headlines already about the crazy ticket prices for that November spectacular when F1 finally lands on the world-famous Strip. But nothing everything will cost you a fortune...
READ MORE: F1 in Las Vegas: All you need to know about the showdown on The Strip
To help you make the most of your time in Vegas, we have put together a list of the best free off-track activities to do while you are there.
Top 10 free things to do in Las Vegas
Although the city is known primarily for gambling and entertainment, there are many other exciting activities that won't cost you a penny.
From strolling through the vibrant streets of Fremont to marvelling at the iconic Fountains of Bellagio, there is no shortage of experiences to be had in this bustling city—without spending a single cent.
Here are our top 10 picks:
1. Fremont Street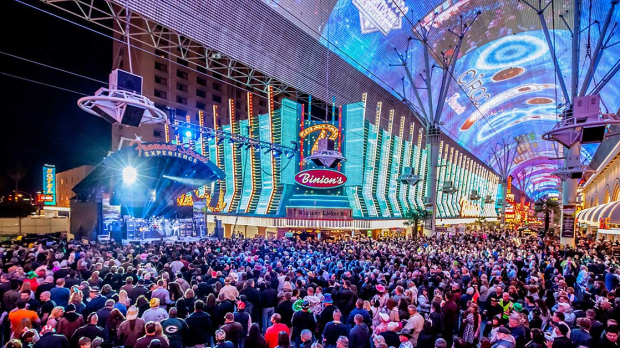 The Fremont Street Experience is a 24-hour entertainment area located in the heart of Vegas. It features a variety of attractions, including a 12-story slot machine-inspired zipline, electric light shows, and free live music concerts every single night.
You do not want to miss out on one of the most popular attractions in the Fremont Street Experience. The Viva Vision Light Shows are a must-see while in Las Vegas. It showcases eye-popping visuals and music on the world's largest video screen at 1,375 feet long and 90 feet wide.
Address: E Fremont St.
2. The Aquarium
Marine life enthusiasts would definitely want to head to the Silverton Casino Hotel to see free mermaid shows and thousands of exotic underwater creatures - from tropical fish to stingrays and sharks, in a 117,000-gallon reef aquarium.
The Mermaid Show is performed several times throughout the day from Thursday to Sunday.
Address: 3333 Blue Diamond Rd
3. Bellagio Conservatory & Botanical Gardens
Located in the lobby of the Bellagio Hotel, the Bellagio Conservatory and Botanical Gardens are a must-see while you are in Vegas. The 14,000-square-foot garden features a stunning display of flowers and plants that change by season.
Address: 3600 S Las Vegas Blvd, Las Vegas
READ MORE: F1 in Las Vegas: Where to stay, how to get to the circuit & more!
4. The Hand of Faith
Take a peek at the Hand of Faith, the world's largest golden nugget, which is housed in the Golden Nugget Hotel and Casino.
Kevin Hillier discovered the 61-pound golden nugget in Australia in 1980 and sold it to the casino for over a million dollars.
Address: 129 Fremont St.
5. Seven Magic Mountains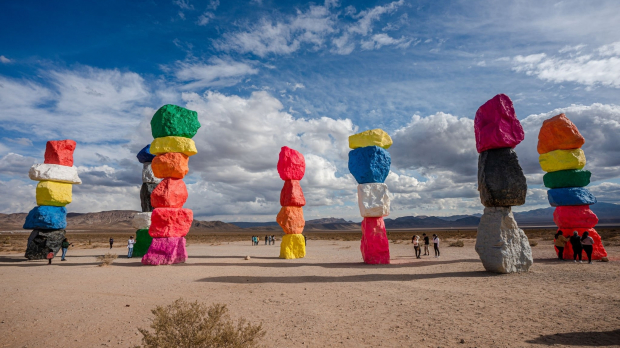 Located about 10 miles south of The Strip, the Seven Magic Mountains are one of the most Insta-worthy spots in Las Vegas. They are a series of seven vividly painted boulders stacked on top of each other and are 30 to 35 feet high.
The Magic Mountains were made by renowned Swiss artist Ugo Rondinone to represent the contrast between natural and artificial worlds.
Address: S Las Vegas Blvd
6. Ethel M Chocolates & Cactus Garden
The Ethel M Chocolates & Cactus Garden is where chocolate and cacti coexist in perfect harmony.
You can stroll through Nevada's largest cactus garden, admiring the colourful cacti and succulents, before taking a tour of the chocolate factory.
Address: 2 Cactus Garden Dr, Henderson, NV 89014
7. Circus Circus Acts
Step into the big top, and you will be whisked away to a world of wonder and excitement.
From the death-defying stunts of the trapeze artists to the hilarious antics of the clowns, there's something for everyone. And of course, it is completely free!
Address: 2880 S Las Vegas Blvd
READ MORE: F1 in Las Vegas: The crazy history of the Caesars Palace Grand Prix
8. Pat Tillman Memorial Bridge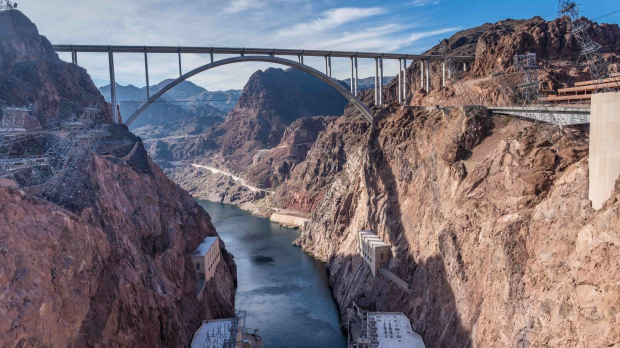 If you're not afraid of heights, find your way to the Mike O'Callaghan-Pat Tillman Memorial Bridge, the second-tallest bridge in the United States.
Arching over the Colorado River at a height of 900 feet, it connects Arizona to Nevada and offers a breathtaking view of the Hoover Dam. And again, it's free.
Address: 28689 Great Basin Hwy, Boulder City
9. "Welcome to Fabulous Las Vegas" iconic sign
The "Welcome to Fabulous Las Vegas" sign is one of Sin City's most popular landmarks.
Whether you are at the beginning or end of your trip, it is worthwhile to stop by and take pictures with the retro-style sign to commemorate it.
Address: 5100 Las Vegas Boulevard South
10. Flamingo Wildlife Habitat
Escape the hustle and bustle of downtown Las Vegas and explore the wonderful Wildlife Habitat at the Flamingo Hotel.
Soak up the beauty of nature and enjoy the presence of bright pink flamingos, exotic birds and fish, all surrounded by lush trees, waterfalls, and streams.
Address: 3555 S Las Vegas Blvd
READ MORE: F1 in Las Vegas: 5 interesting facts about the inaugural Grand Prix