W Series vice-champion Beitske Visser talks exclusively to GPFans about her ambitions for her 2020 campaign and beyond.
Visser, a BMW motorsport junior, was kept busy across the winter racing in the International GT Open, Dubai 24 Hour and alongside the Daytona 24.
"Luckily they kept me busy," said Visser. "I don't really like spending lots of time at home doing nothing. I like to drive every weekend so I'm happy that I've been able to do some races over the winter."
"It's for sure not easy as the driving style changes completely. Especially when you go to endurance racing and you're sharing the car with others, then you go into sprint racing where qualifying is very important.
"I think I learnt it pretty well last year and the more I do it, the easier it gets."
With W Series rivals Jamie Chadwick and Alice Powell both testing Formula E machinery in Marrakesh, Visser says that BMW know that the all-electric single seater championship is one of her goals, adding, "Formula E is one of my goals, along with DTM. BMW know that. If I get any chance I will take it."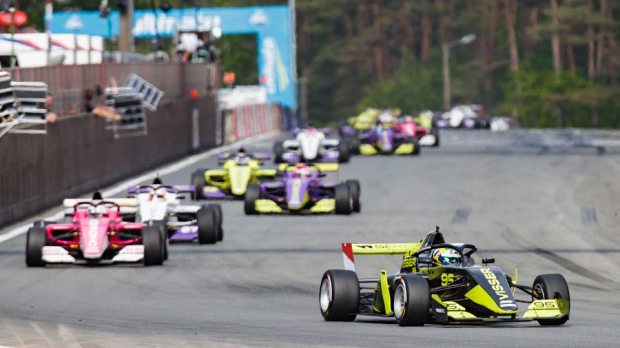 For the inaugural season of the W Series, all of the drivers had to go through a rigorous selection process. However, he top twelve from the 2019 standings were granted automatic entry into the second season, and Visser appeared to be enjoying the slightly more relaxed pre-season.
"Of course, it's a different approach," said Visser. "We don't have the whole selection process anymore and the selection process for the new drivers has already happened at the end of last year, so we are already in a further stage than we were at this point last year.
"Now I kind of know most of my competitors. Obviously, the new ones not. It's good."
The eight race 2020 calendar sees the W Series return to only three of the same venues that they raced on in 2019. Igora Drive [Russia], Anderstorp [Sweden] and Monza [Italy] are all new races, while the series will also race alongside Formula One at the Circuit of the Americas [USA] and Autodromo Hermanos Rodriguez [Mexico].
"I'm looking forward to any track," said Visser. "Russia and Sweden I've never been to before. I always like going to new tracks and learning new tracks so I'm excited for those ones.
"Then the ones in the U.S. and Mexico I've never been to before. Obviously, I'm looking forward to Assen. I wish we would have gone to Zolder. I think I'm looking forward to any race.
"It's a huge step [to be alongside F1]. It just shows that last year has been successful and that we can race with the F1 weekend now for a couple of races so I'm very excited for that."
Asked whether she hoped to catch the attention of F1 teams on those two weekends, Visser added, "I wish they would! I think that when I'm there I should just go and race, push my limits and, hopefully if I do good results over the season, then I will get good chances in the future."
The target for 2020 however is clear - the W Series title.
Jamie Chadwick became the inaugural champion in 2019 and returns to defend her crown this year, while third placed Alice Powell and fifth placed Emma Kimilainen, the Finn sitting out two races through injury before returning strongly, all racing again - Visser identifying the three drivers as her key rivals.
"The four of us will be strong this year for sure, but also Marta [Garcia], Fabienne [Wohlwend], many of the other girls have been testing a lot over the winter.
"I think they've all improved and the new girls, it's hard to judge.
"I think we will see at the first race where everyone is, but I'm hoping that I'm still on top."