Sainz makes Ferrari 'SHAME' admission over one key failure
Sainz makes Ferrari 'SHAME' admission over one key failure
Carlos Sainz has said that his Ferrari team 'haven't been fast' in pit stops this season, after an undercut by Mercedes left him struggling to reclaim positions at the Japanese Grand Prix.
The Spaniard lost fifth position when Lewis Hamilton was able to undercut him at the last round of stops and found himself in seventh after George Russell in the other Mercedes attempted a one-stop strategy.
Having fresher tyres, Sainz was able to overtake Russell but couldn't get back the position on Hamilton, finishing sixth.
It was a frustrating race for the team, particularly given the fact Sainz had managed to claim a stunning victory at the Singapore GP last time out.
READ MORE: World CHAMPIONS crowned as Verstappen returns to form in crushing Suzuka victory
Now, the Spaniard has suggested that slow pit stops from the Ferrari crew have been a recurring theme of the season.
"We missed P5 at the last stop, we took a long time compared to Hamilton," he told DAZN after the race.
"But I was very fast throughout the race, I feel that today we had a better pace than Mercedes. I was four seconds ahead and I started eight behind.
"We haven't been fast in boxes, it's a shame about the undercut they gave us."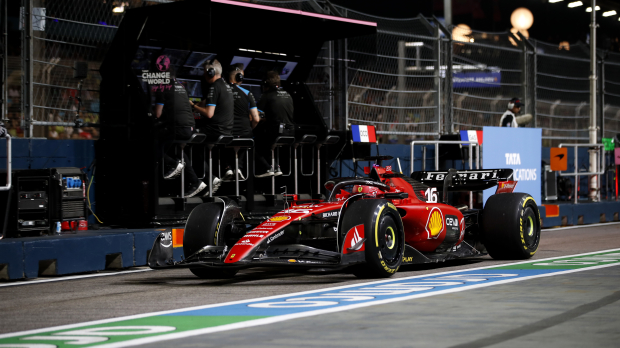 Giants lock horns
It appears, with Red Bull already claiming the constructors' championship, that Ferrari and Mercedes are now in a battle to be the 'best of the rest' in 2023, and that is providing some fantastic racing between the four drivers.
The action at Suzuka marked the fourth race in a row that Ferrari have been able to outscore Mercedes, which leaves them just 20 points behind the eight-time constructors' winners.
Ferrari's resurgence this season has perhaps been second only to McLaren, and they will be confident that they can provide more challenges to Red Bull before the end of the campaign.
READ MORE: EXCLUSIVE: Verstappen setup quirk which allows Red Bull to make car even fasters