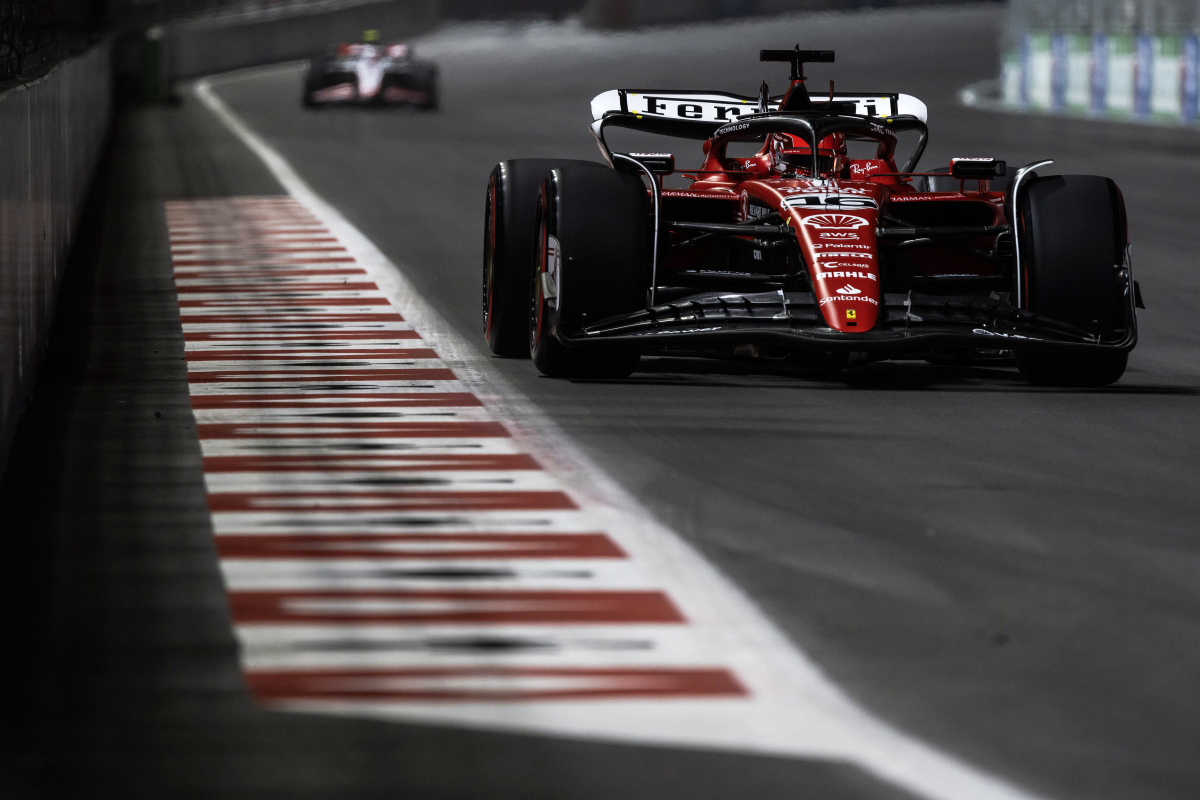 Leclerc leads Ferrari one-two as Red Bull weaknesses EXPOSED in Las Vegas practice
Leclerc leads Ferrari one-two as Red Bull weaknesses EXPOSED in Las Vegas practice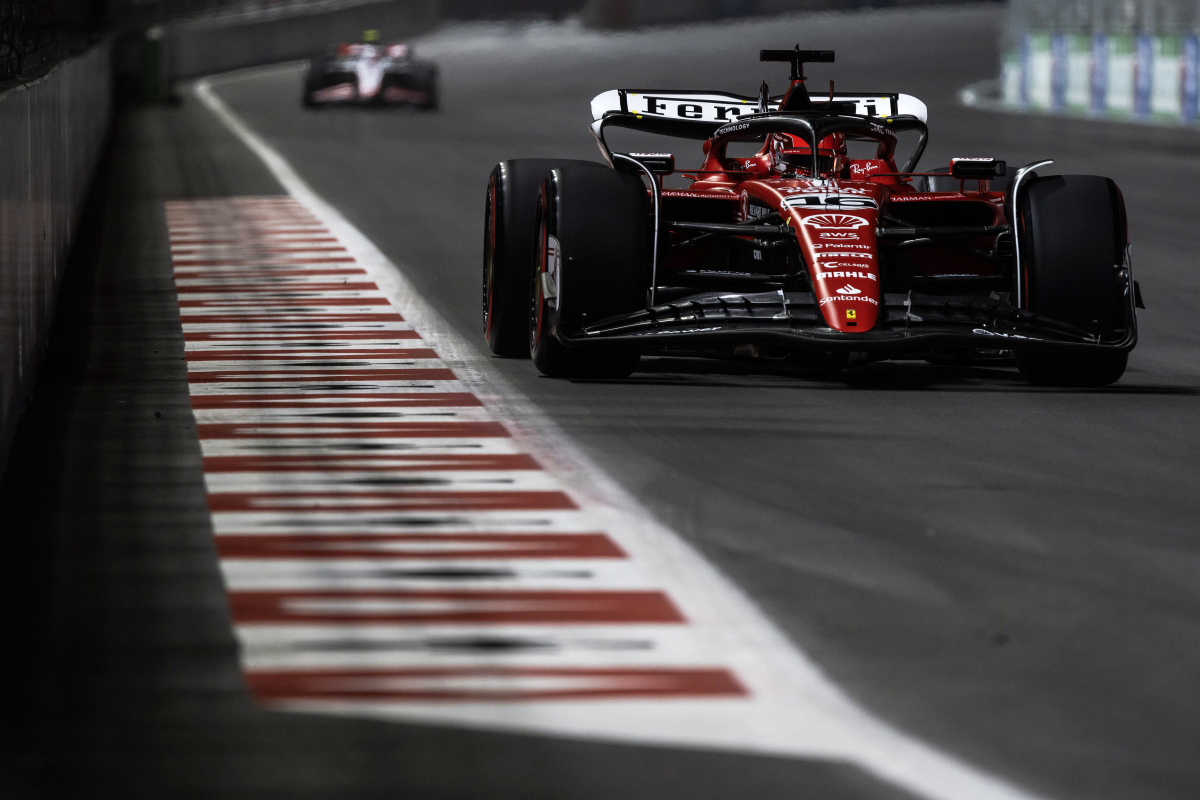 Charles Leclerc led his second consecutive practice session for the Las Vegas Grand Prix, showing searing form to lead Carlos Sainz in a one-two, and Fernando Alonso in third in the Nevada desert.
Sergio Perez had a positive session for Red Bull in fourth, while Valterri Bottas surprised with fifth for Alfa Romeo, ahead of triple world champion Max Verstappen in sixth.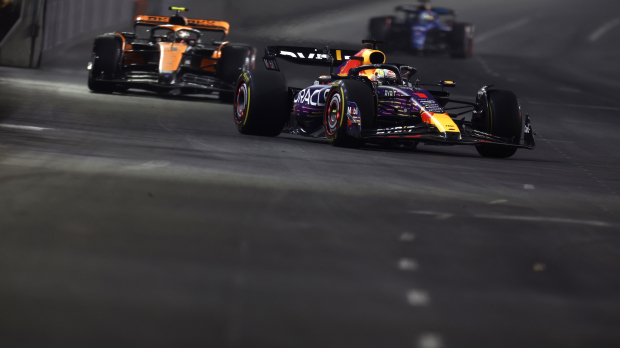 Nico Hulkenberg managed seventh in his Haas as Lance Stroll ended eighth – seven tenths behind his team-mate.
Lewis Hamilton finished in ninth place at a circuit which isn't expected to suit his Mercedes, as Alex Albon rounded out the top ten in his Williams.
READ MORE: EXCLUSIVE: Albon EXCITED by new Williams F1 project as star driver enjoys extra responsibility
Late-early start in Vegas
Lando Norris was the first car to venture back onto the track during FP2, followed closely by team-mate Oscar Piastri.
All drivers struggled to keep it on the track early on, with Sergio Perez, Fernando Alonso and Lando Norris all taking advantage of the circuit's extensive runoff.
Ten minutes into the session, Ferrari headed the field with a 1-2, followed by the Red Bull duo of Max Verstappen and Sergio Perez on harder tyres.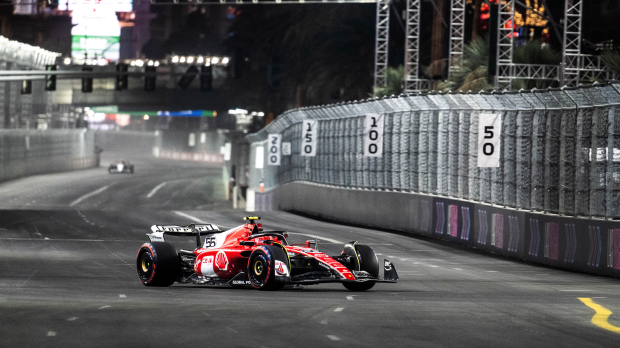 Involved in much of the action at the start of the session, Lando Norris was confined to the pitlane after his car required a system reset having gone into limp mode.
King of the times and championship for much of the season, Max Verstappen clawed his way back into first place on harder tyres than his competitors just before the 20-minute mark.
Quiet start to the morning
With an hour to go, Alex Albon climbed inside the top three, surprising the paddock in his FW45 yet again – a theme he carried through the Mexican Grand Prix weekend too.
The running quitened down, as had the crowd after being sent home an hour prior to the start of FP2 – sparking controversy following the price of tickets and lack of running witnessed.
Before long, the first set of qualifying runs began as Carlos Sainz, who has been handed a ten-place grid penalty for his FP1 incident, speared to the top of the timings one second ahead of his nearest rival.
READ MORE: EXCLUSIVE: Verstappen setup quirk which allows Red Bull to make car even faster
Drivers speeding up
His Ferrari team-mate Charles Leclerc joined him to form a second 1-2 within half an hour, before Max Verstappen was forced to abort his first run after running wide.
When the Dutchman eventually got his time in, he was three tenths adrift of the Ferraris in third, as the Scuderia look well placed for an impressive result this weekend.
The experienced Lewis Hamilton, who has faced all kinds of new circuits in his career, put in an impressive laptime to trail Sainz by just three thousandths of a second in second place halfway through the session.
Staggeringly, the top seven – comprised of six different teams, was separated by three tenths of a second at the halfway stage, providing an early glimpse at how close qualifying could be on Saturday.
Before long, it was Fernando Alonso's turn to sit atop the times, yet again three thousandths of a second the magic margin he had out front.
READ MORE: Unstoppable Verstappen is a MAJOR PROBLEM for F1
A league of their own
Red Bull and Ferrari appear to be the teams to beat this weekend, as Max Verstappen chimed in with a 1:36.3 to go into first place and barely ahead of Carlos Sainz.
But it wasn't long before Charles Leclerc was the first to break into the 1:35's, going six tenths faster than Verstappen and asserting himself as one of the top dogs this weekend.
The field did close the gap, with Carlos Sainz jumping into second, a tenth behind his team-mate, while Valtteri Bottas shocked with a lap to go fourth.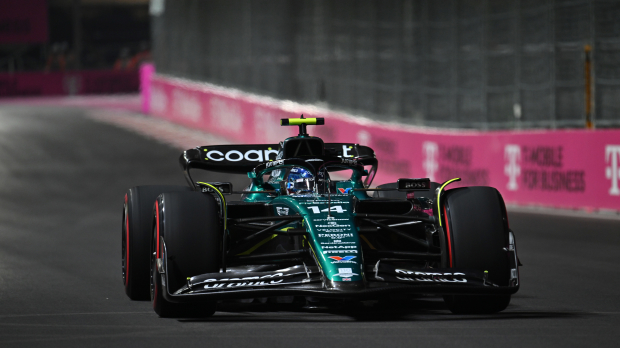 Fernando Alonso continued to push on with Aston Martin's resurgence and found himself second after lapping less than a tenth slower than Leclerc with less than half an hour to go.
Leclerc pushed on yet again though, extending his lead to five tenths again, making a further statement that he means business this weekend.
Las Vegas Grand Prix practice results - Friday November 17th
1. Charles Leclerc (Ferrari): 1:35.265s
2. Carlos Sainz (Ferrari): +0.517
3. Fernando Alonso (Aston Martin): +0.528
4. Sergio Perez (Red Bull): +0.820
5. Valtteri Bottas (Alfa Romeo): +0.846
6. Max Verstappen (Red Bull): +0.918
7. Nico Hulkenberg (Haas): +1.224
8. Lance Stroll (Aston Martin): +1.231
9. Lewis Hamilton (Mercedes): +1.398
10. Alex Albon (Williams): +1.423
11. Lando Norris (McLaren): +1.423
12. George Russell (Mercedes): +1.625
13. Kevin Magnussen (Haas): +1.652
14. Oscar Piastri (McLaren): +1.722
15. Pierre Gasly (Alpine): +1.869
16. Esteban Ocon (Alpine): +1.976
17. Yuki Tsunoda (AlphaTauri): +2.147
18. Zhou Guanyu (Alfa Romeo): +2.391
19. Daniel Ricciardo (AlphaTauri): +2.415
20. Logan Sargeant (Williams): +2.875
READ MORE: RANKED: Best F1 TV commentators and presenters – power rankings