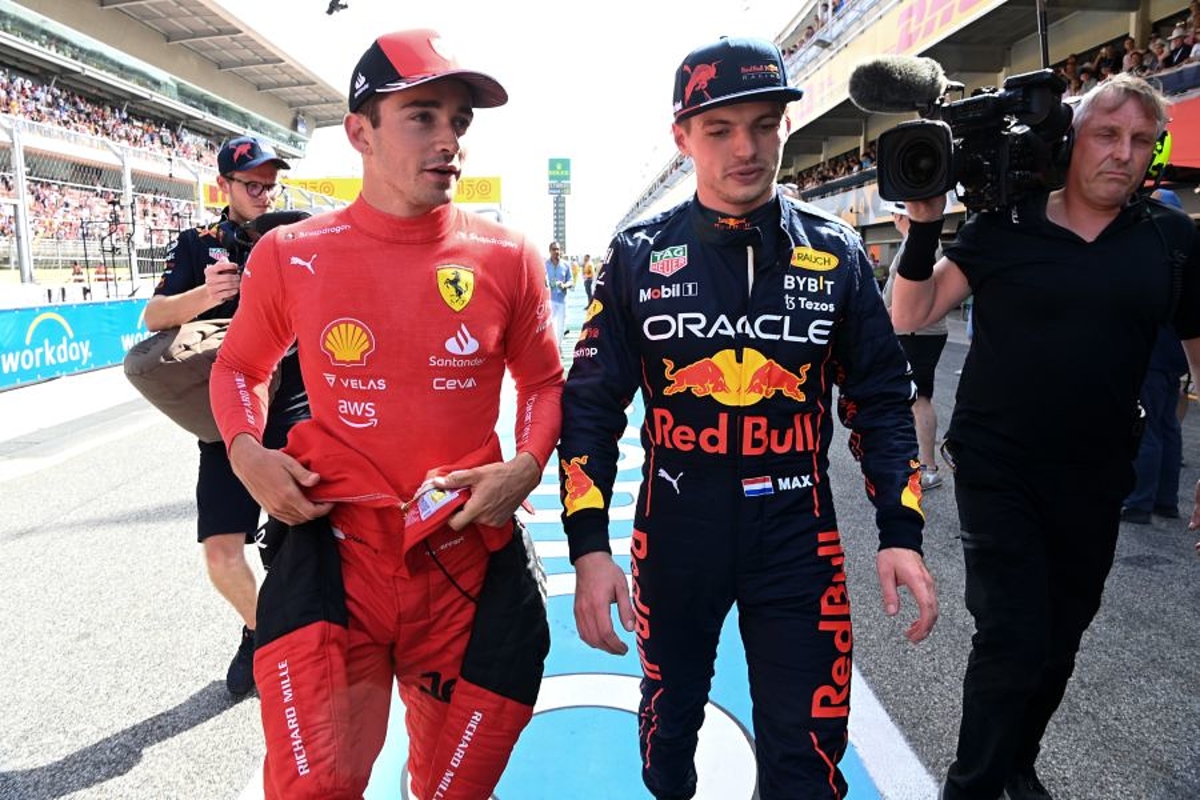 Verstappen overcomes DRS fury to take advantage of Leclerc PU misery
Verstappen overcomes DRS fury to take advantage of Leclerc PU misery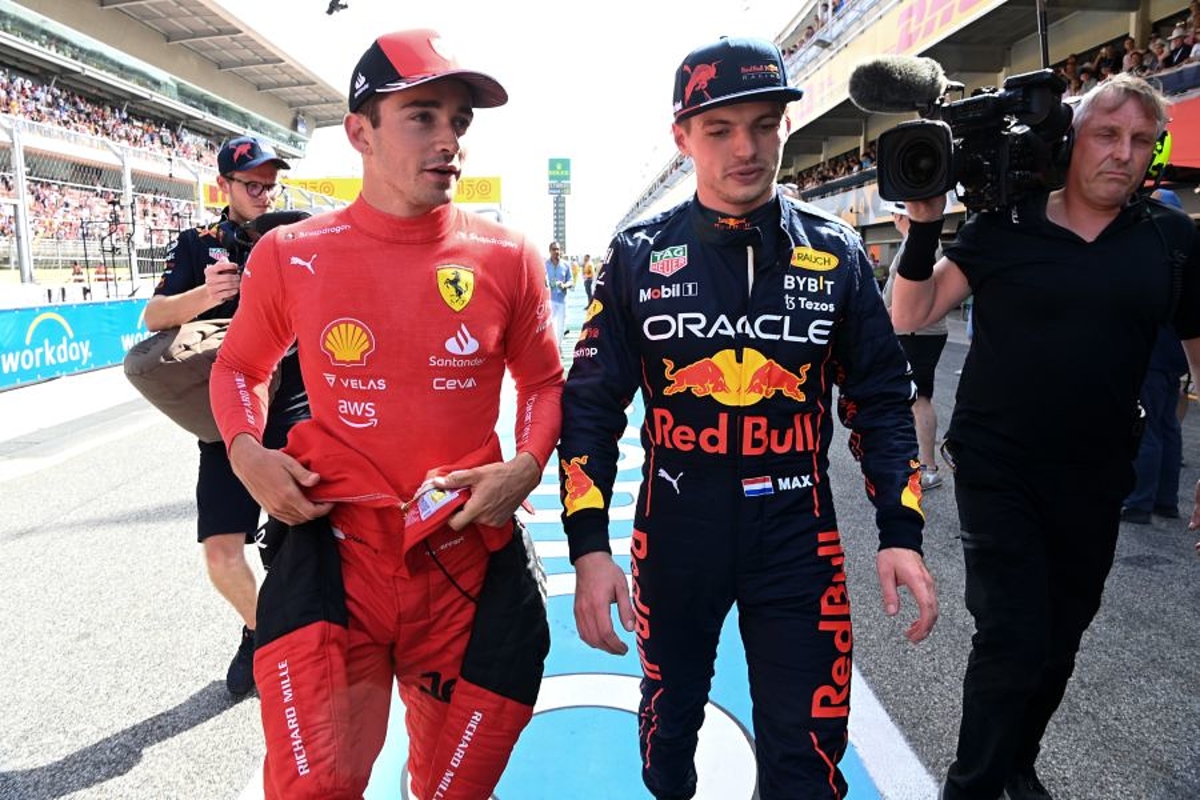 Max Verstappen overcome his own fury with Red Bull's shoddy DRS system to take advantage of Charles Leclerc's PU woes to clinch a Spanish Grand Prix victory which means he now leads the F1 drivers' standings for the first time this year.
Leclerc appeared to be cruising to victory in the searing heat at Barcelona's Circuit de Catalunya which peaked at 37 degrees Celsius at one stage during the 66-lap race.
But on lap 27, the Monégasque suddenly complained of a loss of power with his F1-75 that forced him back to the garage and into retirement.
Prior to that, Verstappen had lost his cool inside the cockpit of his RB18 as he turned the air blue with a series of blunt messages about the failure of his DRS that cost him a shot at a final hot lap in qualifying on Saturday.
Both in the garage and on the grid, Verstappen's team were seen trying to find a fix for a problem that has plagued the Dutch driver over time.
During the race, the issues were obvious to see as there were numerous occasions when the device would not work, notably as he tried to force his way past Mercedes' George Russell.
But Leclerc's retirement, a change of strategy and sportsmanship from team-mate Sergio Perez who pulled to one side late on, allowed Verstappen to claim the 24th win of his career, and fourth this season.
It means that in the space of the past three races, Verstappen has overturned a 46-point deficit to Leclerc and turn it into a six-point lead.
Verstappen ultimately led home a Red Bull one-two, allowing the Milton Keynes-based team to take control of the constructors' standings from Ferrari.
Russell completed the podium, with team-mate Lewis Hamilton fifth, completing a remarkable recovery from the seven-time champion who was 19th after the first lap following a collision with Haas' Kevin Magnussen into turn four.
Hamilton was running fourth on the penultimate lap but was warned of overheating and a DNF risk, allowing Ferrari's Carlos Sainz a pass into the final lap to lift the home crowd.
Hamilton was followed by Alfa Romeo's Valtteri Bottas and the Alpines of Esteban Ocon and Fernando Alonso in seventh and ninth, the duo sandwiching McLaren's Lando Norris.
Home hero Alonso had started last after his team had opted for a power unit change ahead of the race given he was due to start 17th following a mistake in qualifying.
AlphaTauri's Yuki Tsunoda completed the top 10, with Sebastian Vettel and Daniel Ricciardo 11th and 12th respectively for Aston Martin and McLaren.
Sainz sparks first-lap furore
At the start, while Leclerc managed to keep his nose in front of Verstappen, all the action unfolded behind the front-row duo, sparked by anti-stall kicking in on Sainz's car.
That allowed Russell and Perez to pass on the run to the first corner, while Hamilton also attempted to force his way past, only to be repelled.
As Sainz finally picked up speed out of turn one, he tagged the back of Perez, who just managed to keep his car in a straight line.
As the only driver starting on the medium tyres compared to the other 19 on the softs, Hamilton quickly came under attack from Magnussen into turn four, the scene of the Briton's infamous collision in 2016 with then Mercedes team-mate Nico Rosberg.
Attempting an audacious move around the outside, the two banged wheels, causing a puncture on Hamilton's W13 and damage to the VF22 as Magnussen was forced onto the gravel, relegating them to the back of the pack.
Despite Magnussen declaring over the team radio "Lewis knew what he was doing, he just ramped me", the stewards opted not to investigate.
After returning to the track following his stop, a disconsolate Hamilton said over the team radio: "I would save this engine guys if I was you. Sorry."
But race engineer Pete Bonington replied: "Lewis we still feel we can achieve points here today. P8 may be better." It proved to be so much more.
Sainz and Verstappen off at turn four
As the race then unfolded, remarkably Sainz on lap seven and then Verstappen two laps later, slid off the track at turn four from their fifth and second positions due to gusts of wind, dropping them to 11th and fourth respectively.
Verstappen had been making little impression on leader Leclerc but suddenly found himself behind Russell and Perez.
After stops for Russell and Verstappen after 13 laps, switching from the softs onto the mediums, the Dutch driver then grew enraged with his DRS issues.
At one stage, as he was unable to overtake Russell, he fumed: "We can't even make the ******* DRS work. Unbelievable!" Despite instructions on how to overcome the problems, he was unable to be placated.
The battle with Russell allowed Perez to close, and the Mexican had his own agenda as he was considerably quicker than the duelling pair.
"Get me Max out of the way so I can overtake quickly," was Perez's call to the team until the landscape dramatically changed on lap 27 when Leclerc lost power with his F1-75, leading him to making a slow crawl back to the garage.
That handed Russell the lead at the start of lap 28 at the end of which a frustrated Verstappen took on a fresh set of softs in a bid to perform the undercut.
With a strong Perez in his mirrors, Russell soon ceded the lead at the start of lap 31.
Perez and Verstappen swap lead
Perez enjoyed being out in front for seven laps until he made his second stop for a new set of mediums, dropping him behind Verstappen.
At the end of lap 44, Verstappen made a third and final stop as his car took on its own set of new mediums, dropping him to just under four seconds behind Perez.
A few laps later, Perez was informed over the team radio: "You're on a different strategy to Max. If he's quicker, let him through" to which he responded: "That's very unfair but okay."
On lap 49, Perez duly played the dutiful role by allowing Verstappen by and a cruise to the finish.
After the chequered flag, a clearly unhappy Perez said: "I'm happy for the team but we need to speak later."