Lewis Hamilton says he has been "fighting and struggling" with his Mercedes car all weekend at the practice and qualifying sessions for the Chinese Grand Prix, as he heads into the race on Sunday second on the grid behind his team-mate, Valtteri Bottas.
With both drivers performing well in Q3, at one point there was just 0.007 seconds between their laps. However, Bottas rallied in his second lap and eventually claimed pole with a time 0.023 seconds ahead of Hamilton.
The five-time world champion has admitted that he hasn't been totally comfortable in his car in Shanghai so far.
"I didn't give up, I kept pushing right until the end," Hamilton told Sky Sports.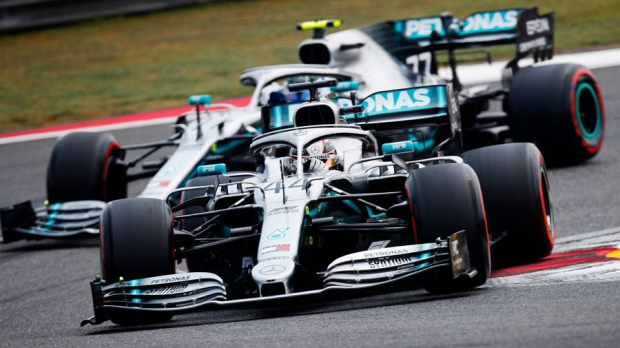 "Big congratulations to Valtteri, he's been stellar all weekend. I've been struggling and fighting the car all weekend.
"We've been chipping away, I'm much happier as at one point it was eight tenths. To be as close as we were at the end is fantastic.
"It's an incredible result for the team. There's a little bit more time left on the table but I'll try and again tomorrow."
In behind the two Mercedes drivers in qualifying were Sebastian Vettel and Charles Leclerc of Ferrari, and Hamilton is well aware of the threat they pose in the GP.
"[Ferrari] are particularly quick on the straights but it's evident this weekend we've managed to pull some performance from the corners, so just great work from the guys back at the factory," he added.
Hamilton has won more Chinese GP races than any other driver, having emerged victorious on five occasions.