Tilke: 'Er moet veel veranderd worden aan Zandvoort'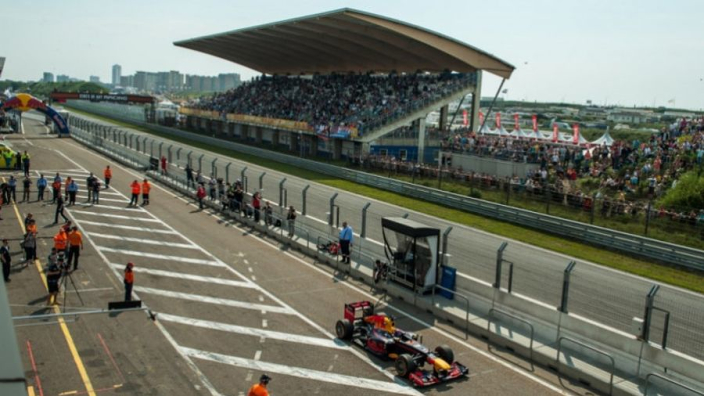 De legendarische circuitontwerper Hermann Tilke sprak in Abu Dhabi met De Telegraaf over de mogelijkheid van een Grand Prix in Nederland. De Duitser ziet zeker kansen, maar denkt dat er op Zandvoort wel veel verandering nodig is.
Hermann Tilke ontwierp in de loop der jaren tal van circuits, waaronder Sepang in Maleisië, het Circuit of the Americas en Yas Marina, waar gisteren werd geraced. Als er iemand is die weet waar een circuit aan moet voldoen om interessant te kunnen zijn voor een Grand Prix, dan is hij het wel. Hij werd gevraagd naar de mogelijkheden in Nederland. Volgens Tilke hebben zowel Assen als Zandvoort potentie, alleen moet er bij die laatste nog wel veel veranderen. De ontwerper denkt dat een stratenrace in Nederland veel duurder wordt dan één van de bestaande circuits aanpassen.
"Zandvoort is een super circuit, maar er moet veel worden veranderd. Als het daar mogelijk is, dan in Assen al helemaal." Volgens Tilke hoeft er in Assen veel minder te gebeuren. Toch zou hijzelf het TT-circuit niet snel voorbereiden voor de Formule 1: 'Ik zou de baan op de MotoGP gericht houden,' aldus Tilke.
Hoewel Tilke dus zelf het circuit in Assen niet zou veranderen, is het volgens hem wel logisch dat er een Grand Prix van Nederland zou komen. Uiteraard heeft dat te maken met de aanwezigheid van Max Verstappen in de Formule 1. Volgens Tilke is het net zo'n grote hype als zijn thuisland Duitsland beleefde met Michael Schumacher.