We've had the bluster and guesswork of pre-season, now it's time for the real thing. The 2019 Formula 1 season is upon us and begins at the Australian Grand Prix! Were Mercedes sandbagging in Barcelona? Are Ferrari really that fast? This is where we find out…
Sebastian Vettel has got the better of Lewis Hamilton in Melbourne in each of the past two years, although he did so in a Ferrari that was still thought to be slower than the Mercedes.
This time, the German enters as favourite. Can he live up to the billing? You'll want to find out and here's how you can do so…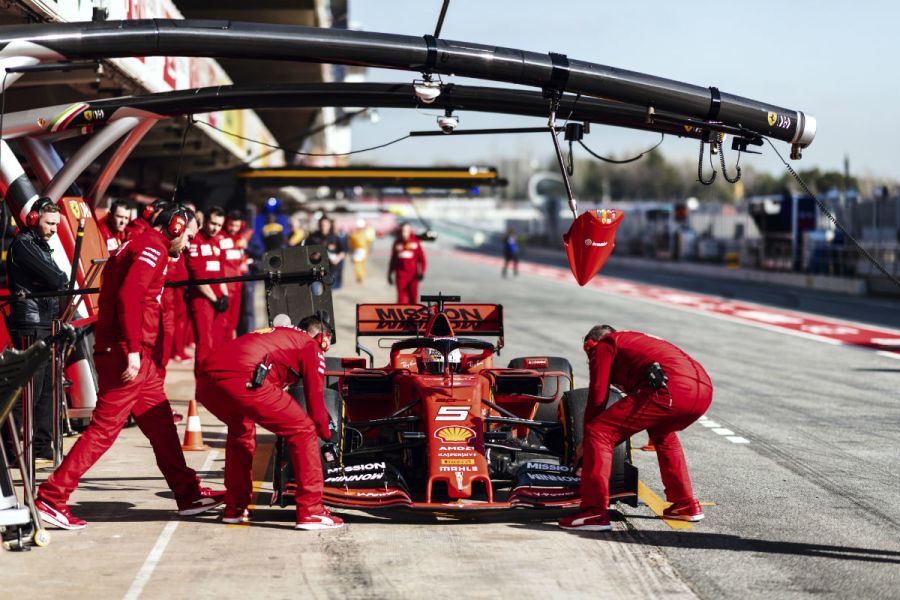 The Australian Grand Prix will be held on Sunday March 17 at the Melbourne Grand Prix Circuit, Albert Park. The race will start at 16:10 local time (05:10 GMT, 01:10 ET).
On-track action begins with Friday's first practice session at 12:00 local time (01:00 GMT, Thursday 21:00 ET), with the second session starting at 16:00 local time (05:00 GMT, 01:00 ET)
Saturday's qualifying session starts at 17:00 local time (06:00 GMT, 02:00 ET), following on from the third practice session, which starts at 14:00 local time (03:00 GMT, Thursday 23:00 ET).
HOW CAN I WATCH THE AUSTRALIAN GRAND PRIX IN THE UK?
Every session of the Abu Dhabi Grand Prix will be shown live on Sky Sports' dedicated F1 channel. Customers who subscribe to Sky Sports F1 can also watch all the action on the move thanks to the Sky Go app.
Alternatively, you can purchase a Now TV pass to watch all of Sky Sports' coverage on your smart TV, mobile device, tablet or computer.
IS THE AUSTRALIAN GRAND PRIX ON CHANNEL 4?
No – only the British Grand Prix will be shown in full on free-to-air television in the UK this year. Highlights of all 20 other races will be shown in a "prime-time" slot on C4.
HOW CAN I WATCH THE AUSTRALIAN GRAND PRIX IN THE USA?
ESPN will carry live coverage of every session from Melbourne to subscribing fans Stateside.
Friday's first and second practice sessions will be aired on ESPN3 and ESPNEWS respectively, with Saturday's practice and qualifying to be aired on ESPNEWS and ESPN2 respectively. Sunday's race will be available on ESPN's main channel. Coverage on ESPN is pulled from the Sky Sports in the UK.
Live streaming is available via the ESPN App.
HOW CAN I WATCH THE AUSTRALIAN GRAND PRIX IN AUSTRALIA?
Every session is shown live on subscription service Fox Sports. The coverage is pulled in from Sky Sports in the UK.
Free-to-air Network Ten have live-coverage rights for the Australian Grand Prix only, showing highlights for the 20 other events in 2018.
Foxtel's streaming service Kayo offers fans the chance to keep up with F1, AFL and more on the move.
HOW CAN I WATCH THE AUSTRALIAN GRAND PRIX IN CANADA?
Free practice two, qualifying and the race will be aired live in English on subscription channel TSN, which pulls in coverage from Sky Sports in the UK. The TSN GO app allows fans in Canada to watch F1 on the move.
French-language coverage is available on RDS to subscribers, which will air qualifying and the race live. You can download RDS GO if you are out and about.
HOW CAN I WATCH THE AUSTRALIAN GRAND PRIX ON F1 TV PRO?
F1 TV Pro, with exclusive camera angles and live coverage of every session, is available to fans in multiple territories.
Check F1's official website to see if F1 TV Pro is available in your location. You will need to pay a fee to subscribe, rates vary depending on locations.
F1 TV Pro is available on most PC operating systems, as well as many mainstream tablet and mobile providers – for a list of all suitable devices, click here.